If you're spending a lot more time in the gym, you'll need a good pair of leggings. However, it's not easy to find great leggings, especially for bigger sizes. So when it comes down to it the best workout leggings for curvy figure are soft, won't wear out during wash, and are durable.
While there was limited variety in the plus-size activewear a few years back, nowadays there's a boom in stylish and size-inclusive brands in the market. You can now find workout clothes for plus size women that are very supportive and comfortable. But before you buy any leggings you should realize that not all leggings are made the same. If you buy the wrong workout leggings they can hold back your progress.
The best leggings should have a built-in stretch that will hug your body without restricting your movement or making you uncomfortable around your knees and crotch. They should also be well-ventilated, breathable, and moisture-wicking to keep you cool and dry during your sweaty workout sessions. The leggings should also be squat-proof so you can have the confidence to stake a position in front of the class and not worry about exposing parts of your body. The most important thing is your workout leggings should be super comfortable and suited for that particular workout.
What material are workout leggings made of?
Gym leggings are made with different materials but the most common fabric is cotton, nylon, and polyester. The best material for you will depend on your favorite workout exercises and your personal preference.
Cotton. This is a very soft and breathable material which is perfect if you're looking for comfortable workout clothes to wear. However, keep in mind that cotton doesn't do very well when it comes to stretching and absorbing moisture, so it's better suited for less sweaty workouts and calmer activities like yoga.
Polyester. This material is well known for its sweat-wicking abilities making it perfect for wearing to your cardio sessions. However, it's less breathable than cotton which means it can hold in smells so you need to wash it regularly.
Nylon. This is a lightweight material that is very quick and easy to dry so it can handle your sweatiness during your workouts. The downside to this material is that it tends to shrink so ensure that you wash it with the right water temperature.
How tight should your workout leggings be?
This will mostly depend on your favorite workout exercise. So if you do a lot of high-intensity workouts or running, you should get leggings that will feel like you're wearing a second skin. If some of your belly is protruding over the waistband, your leggings are a bit tights you should get a bigger size up.
If your leggings are falling or they're loose and baggy at the crotch it could be because you're wearing the wrong size so you should try a size or two down. You can also try wearing high waist leggings which could be better for your curvy figure. Your leggings can also be sliding down because they're worn out and the elastic band has lost its elasticity. You can opt to go for non-stretching leggings in the wash and use soap that is for washing activewear to allow your leggings to last longer.
How to find the best workout leggings for curvy figure
Check the fabric
Synthetic material like polyester and nylon work much better for cotton workout pants because they can absorb moisture, they're better at stretching and are more durable. Go for a smooth shiny fabric to help reduce chafing when you're performing high-impact workouts like running. If you love doing studio workouts like yoga a soft fabric that looks matte would be perfect because there's less friction. On the other hand, if you do a lot of cardio, you should look for compression leggings because they can help in improving your circulation as you work out.
Check the construction
The seams in the leggings should be flat because they're more comfortable and they help to reduce irritation from sweating and movement. Also ensure your leggings have an extra fabric around the crotch area to prevent them from riding up, especially when there's a lot of motion.
Check if the leggings stay up
Invest in workout leggings that will provide support through 50 minutes of training or an intense and sweaty HIIT session. Low waist leggings may work for you, but you don't want to keep worrying about your midriff when you should be focusing on your workout. High waist leggings are a better choice if you want to focus on your session instead of your mid-section.
Ensure the leggings aren't see-through
Before you buy your leggings, try them on in bright light and bend your knees completely and check if you can see your skin through the fabric. If your skin is visible the fabric isn't fully opaque. Also, save yourself the anxiety of having a bum display by doing a squat test before buying your leggings by watching yourself move around in the leggings in the changing room. This will give you the confidence that your leggings don't expose any part of your body in your next workout session.
Check what the leggings are designed for
It may look like you're saving some money, but buying running leggings for your workouts will not seem like a good idea when the zipper is digging into your back as you're trying to focus on your flutter kicks. If you're looking for running leggings need reflective fabric, but workout gym leggings don't need to have any fancy add-ons.
Do a sweat test
Most activewear is designed to be moisture-wicking, but not all the fabric prove what they claim. To see how well the legging fabric handles moistures, you can do a test by pouring a small amount of water on the inside of the leggings. The fabric is supposed to absorb quickly and spread out wide instead of beading up.
Table for the best workout leggings for curvy figure

| Product | Features | Check on Amazon |
| --- | --- | --- |
| | Comfortable, soft, 87% nylon and 13% spandex, mesh out pocket, non-see-through, squat-proof | |
| | Wide waistband, sewn-in gusset, 88% polyester and 12% spandex, moisture-wicking | |
| | Ankle-length, moisture-wicking, 92% cotton and 8% spandex, flatlock stitching, extra stretching fabric | |
| | High-waist, stylish out pockets, 81% polyester, and 19% spandex, supportive | |
| | Comfortable, suppler soft, 90% Supplex and 10% lycra, super stretchy, natural moisture-wicking, no side seams | |
| | Super soft, stretchy, high waist, tummy control, 92% polyester and 8% spandex | |
| | High waist, twill knit, 94% nylon and 6% spandex, double-layered waistband, supportive | |
If you love yoga workouts, these capris leggings would be a great option. They're soft and comfortable and are made with 87% nylon and 13% spandex material that stretches well and is squat-proof. It's thick enough and no part of your body will show through the fabric. They're high waist leggings with a wide elastic waistband to help hide your tummy and contour your curves to give you a more streamlined look. The flat seams not only give the leggings a stylish look but also help to fit your skin perfectly and reduce irritation caused by chafing. The material stretches very well, is breathable, and conforms to the movement of your body so you can focus more on your running, yoga, athletics, fitness, or any other workout. The leggings come with an outside pocket where you can put your phone, credit cards, or keys.
Pros
The material is super comfortable
They stay put and there's no chafing
Lightweight and flexible
Conform for your body but don't restrict
Cons
Verdict
Super comfortable, stylish, and flexible workout leggings that don't cause chafing and don't restrict your movement.
Black workout leggings that are made with 88% polyester and 12% spandex material. These leggings are full length and solid black so you can wear them with your favorite workout shirt. They have an extra-wide waistband with a smooth elastic inside so it doesn't fold and a gusset at the front that provides a second layer of protection which ensures the seams don't tear. The material is opaque and super stretchy which makes them perfect to wear for your workouts, run errands, or just wear in the house. Their moisture-wicking material helps to keep you dry and cool during your sweaty workouts. The leggings can be machine washed.
Pros
Comfortable and very easy to move around in
They're high-waisted and roll-resistant
The material is soft and flexible
There are squat-proof
Cons
Verdict
Great workout black leggings you can wear to the gym or for your errands. They're long and high-waisted and the material is super soft and elastic to keep you comfortable as you move.
These are stylish ankle-length leggings that are available in a variety of fun colors. They're made of 92% cotton and 8% spandex which makes this blend of material moisture-wicking so that you're cool and dry throughout your workout. The seams at the sides have been reinforced with flatlock stitching to help in reducing irritation caused by chafing. The cotton spandex material is super comfortable and stretchy to give you a natural fit that will enhance your movements during any activity. The fitted silhouette gives you a flattering look with more flexibility as you move. This are great leggings to wear at home or when going out to run errands and also when you want to give your jeans a break.
Pros
Very soft and stretchy
Very comfortable
Thick material and no see-through
Cons
The legs are a bit flared at the bottom
Verdict
Stylish leggings that have a very comfortable blend of material that is comfortable, stretchy, and squat-proof for a great workout or a fun day out.
These are lightweight and stretchy leggings made with a beautiful fabric with a sheer mesh sexy design. It makes you feel attractive and elegant to confidently show off your legs and body as you go for your morning workout session with your friends. These workout leggings are made with a blend of 81% polyester and 19% spandex material that is breathable and sweat-absorbent to keep you dry and cool. These high waisted leggings are very fashionable to give you that chic look and a tummy-slimming effect with side pockets for your phone that can stretch so they don't limit your movements. The pockets are made of mesh so your phone and other items don't overheat. They're squat-proof and don't roll down which makes them super comfortable for workouts, yoga, Pilates, running, jogging, or your daily fitness.
Pros
Stretchy and strong material
Stylish and comfortable
Silky and sexy
The pockets are big enough
Cons
They keep sliding down
They run small
Verdict
Stylish, sexy, and comfortable workout leggings with stretchy and mesh fabric that is great for your workouts and other fitness activities.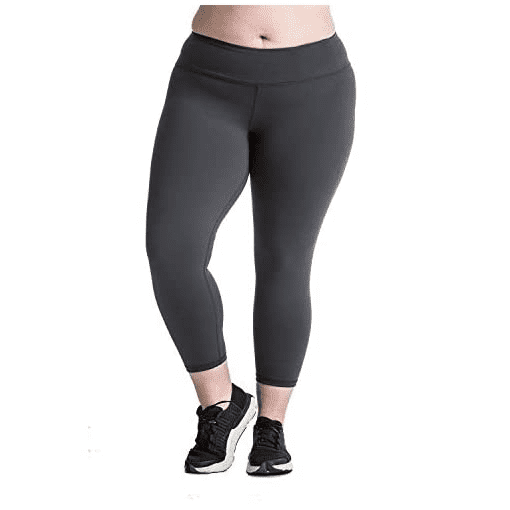 Great leggings with compression that are made with super soft material to provide you with great comfort during your workout. They're made with 90% Supplex and 10% Lycra material that is quick-drying with natural moisture-wicking abilities so you can comfortable and dry. The material is resistant to fading, shrinking, and wrinkling, don't sag or slip and a waistband that won't dig into your skin. The leggings are soft but durable and can generously stretch and are highly resistant to abrasion and moisture. The leggings don't have any side seams but have flatlock stitching that helps to avoid chafing. The inside pocket is convenient for putting your phone and keys while the diamond-shaped gusset ensures that the leggings don't ride up your crotch to make you uncomfortable. You can machine wash these leggings with cold water and dry them outside or use low heat to tumble dry.
Pros
The material is thick and stretchy
The compression is constant throughout
The hidden waist pocket is perfect
Very comfortable
Cons
The seams can be a bit scratchy
Verdict
Leggings made with quality thick material that is stretchy and very comfortable. The leggings are soft and durable and will keep you dry throughout your workout.
These are high-quality leggings that are made with super soft peach skin fabric that comprises of 92% polyester and 8% spandex. The material is very comfortable and super stretchy in all directions so you don't feel restricted when moving and come in a variety of plus sizes you can choose from. The leggings are opaque so you don't have to worry about any part of your body showing through. The high waistband hugs your waist and keeps everything in place which prevents sagging ad ensures you're comfortable and supported. The leggings come with an inside pocket where you can keep your phone, keys, or cards. These are great leggings for your yoga class ad give you that slimming control effect on your hips and buttocks for that casual slim look.
Pros
Very comfortable and fit well
Soft, smooth, and very supportive
Squat-proof
They stretch but aren't saggy
Cons
Verdict
Super comfortable and stretchy material that will keep you dry and unrestricted when moving. They're not only great to wear to the gym but also for a night out.
These leggings are designed with flexibility in mind so you have no problem moving around all day. They're made with 94% nylon and 6 % spandex with a double-layer waistband to smoothen out your tummy and ensure you're comfortable and supported all day. The high-waist design gives you a flattering figure and ensures there's no muffin top for that all-around firmness and seamless shaping. The waistband stays in place without pinching your skin or rolling down while the twill knit construction gives the leggings great quality and durability. You can hand wash them with cold water and lay them flat to dry but don't iron them to avoid stretching or damaging the material.
Pros
The compression is great with no camel toe
Made with quality material
Aren't see through
Comfortable
Cons
They're short
They ride up
Verdict
Flexible and comfortable leggings with a double-layer waistband to ensure you're comfortable and well supported throughout the day.
Conclusion
It's always a bit of a struggle trying to find the best workout leggings for curvy figure. They're supposed to be comfortable enough to work out in, able to ensure all the strenuous workouts, and also feel and look good while doing it. Uoohal women's plus size high waist active leggings are such great workout leggings that are comfortable, stylish, supportive, and stretchy so you can focus on your workout.