If you have lymphedema, your legs might constantly swell, get skin infections, pain, have a tingly feeling, and have limited movement. Compression therapy can help to ease your pain, but an easier way is to wear plus size compression leggings for lymphedema. These leggings can help to provide relief to your aching legs and help improve circulation.
Before checking out the various compression leggings for plus size, let's get to know more about lymphedema for those who may not have an idea of this condition. Regardless if you'd to skip all that, here is a quick table for you to skim. I have handpicked these, I really hope these help you out. Not looking for leggings for lymphedema? Check out my article about the best plus size leggings on Amazon.
Table for the best plus size compression leggings for lymphedema

| Product | Features | Check on Amazon |
| --- | --- | --- |
| | Fabric woven with minerals, uses FIR therapy, compression, and micro-massage, fabric molds to the shape of your body | |
| | High degree compression, polyamide, and elastane fabric, soft and breathable, supportive | |
| | Graduated compression support, nylon, and spandex fabric, opaque, comfortable and durable | |
| | Strong reinforced design, soft, breathable, flexible, supportive | |
| | Comfortable fitness leggings, great support, stretchy material, warm for cold days | |
Lymphedema
This is a condition that affects your lymphatic system that causes lymphatic fluid to be retained in your limbs which leads to the swelling of your skin and a feeling of heaviness on your lower limbs that causes extreme deformity. His swollen skin will indent when you press it in. The symptoms can range from mild to severe, but most of the areas affected by swelling include your arms and legs. Other infections include pain, chronic infections, tight feeling, discomfort, and reduced motion. If your legs are affected it can become difficult to walk or even get out of a chair.
Compression leggings
Compression leggings are a great way of helping to reduce and control lymphedema. They limit the lymph fluid buildup so that fluid moves where it can get drained properly. Wearing plus size compression leggings provide continuous support for your tired legs, improve your blood circulation, and help to give you a nice shape and contour. Your legs will feel attractive, smooth, and energized. There are different ways you can manage lymphedema.
Massage. A therapist can massage the affected limbs to encourage the fluid to leave the area it has accumulated.
Surgery. If your lymphedema is severe it might require surgery, especially where the fluid in your limbs has hardened and they can't drain it. Surgery can help to remove the fibrous tissue that has formed in the affected area.
Compression. Compression leggings or socks are mostly recommended for lymphedema because they help to relieve fluid retention during the early stages before it gets worse. Compression leggings help to keep you active which is very important and prevents the fluid from returning to your affected limbs in more severe cases.
Benefits of wearing compression leggings
At the early stages of lymphedema, wearing compression garments can help reverse this condition with the help of medical-grade compression socks and stockings. Also after draining the excess fluid from your limbs through decongestive therapy, wearing compression leggings daily can help prevent the fluid from returning.
Reduce swelling
The damage that is caused by your lymph nodes or vessels after cancer surgery or radiation is one of the primary causes of lymphedema. The damage caused can block or restrict the flow of the lymph fluids which causes a buildup and leads to swelling. Compression leggings help to prevent more fluid from building up in the affected area which contributes to the swelling and reduces the existing swelling.
Provide extended treatment
Medical-grade compression garments provide a level of compression that can restrict your physical activity so you're not able to wear them all day. However, compression leggings have a milder level of compression that can provide relief throughout the day and are comfortable enough to wear and move around in them without feeling restricted.
Provide support
Some of the symptoms of lymphedema are aches, discomfort, and a heavy feeling that are made worse by the weight of the fluid in your legs. Apart from lowering the buildup of fluid, compression leggings will help to provide added support for your legs to help manage the added weight.
Reduce your risk of deep vein thrombosis (DVT)
This condition causes blood clots in your veins that can be life-threatening if left unmanaged and compression leggings can help prevent that.
Prevent toxic buildup
The lymph helps to get rid of all the toxins and bacteria in your body, but if its flow is obstructed the bacteria and toxins buildup which leads to infections. Wearing compression leggings can help prevent this.
Reduce the appearance of cellulite
Compression leggings help to create diversified pressure points that help to promote healthy blood flow. This helps to prevent fat from being pushed to the wrong part of your body and this can help to prevent the appearance of cellulite.
Promote faster healing
When worn properly, compression leggings can help in promoting faster healing and boosting your immune function. Some leggings are made with far infrared light (FIR) fabric which is a source of energy that penetrates your skin to boost slow blood circulation without causing any damage.
How to wear and remove compression garments
When you go out to buy compression leggings ensure that you're shown how to put them on and remove them. For compression leggings, it can help to roll the leggings inside out as far as the ankles.
Here are a few tips you can follow.
It's better to put on the compression leggings first thing in the morning when your limbs are smallest but after you've taken your shower.
Ensure that your skin is properly cleaned and dried and all the moisturizer has been well absorbed.
Fold the leggings on to themselves up to the ankles then pull them over your legs slowly, but ensure you don't pull them up by their top part.
Don't turn or roll the top part of your leggings as it will restrict blood flow and cause even more swelling.
You can apply some little amount of unperfumed talc powder to make it easier to roll the leggings. You can also wear rubber gloves to help put on the leggings and smoothen out the creases.
When taking off the leggings, fold them back on themselves until your ankles then slowly slide your feet off.
After taking off the leggings at night, keep your skin moisturized, but don't moisturize in the morning because it will make it difficult to put on the leggings.
If you notice a change in the sensation in your legs, it could be because the compression leggings are too tight. Some of the signs include pain, numbness, pins and needles, and a change of color in your toes. If you wear the compression leggings incorrectly, they will not help in reducing the swelling and can even do more harm than good. The fabric can form tight bands across your skin and cause damage. That's why you must buy the right leggings that are comfortable and will help ease the pain. If you wear the wrong compression leggings, it can make your condition worse and leave you feeling very constrained and uncomfortable.
These compression leggings are woven with a special material that contains minerals that help to improve lymphatic drainage and ease the pain. The compression and micro-massage work together on a cellular and molecular level to provide relief and help with cell regeneration and healing. The micro-massage will also help to improve circulation and provide more energy in your legs. These compression leggings are suitable for all leg sizes as the fabric will adjust according to the shape of the lower half of your body so you don't have to feel any tightness or heaviness.
These leggings have a high waist design in case you have lymphedema around your trunk area. These compression leggings are opaque so you can easily pair them with your favorite shirt or a long top or wear them underneath your jeans. They're very stretchy which makes them great wear for your workouts. They can also keep you warm under layers during the cold season without giving you heat flashes.
Pros
Very comfortable and stretchy
The material is soft and great for workouts
They help to keep the swelling down and the pain
Very easy to put on
Cons
They tend to slide a bit after a few hours
Verdict
Excellent compression leggings for plus size that are designed with special fabric that will help with the aches, pains, and lymphatic drainage. They're very comfortable, soft, and very stretchy.
These high waisted compression leggings are designed up to half your foot with a high degree of compression of about 25-30 mmHg which is recommended after using the 15-18 mmHg when the swelling has reduced on your legs. They're made of 80% polyamide and 20% elastane which is a soft and breathable fabric with a wave structure that can help alleviate lymphedema pain while the passive massage system will enable drainage of the lymph fluid.
These leggings have a high waist design which helps to support the lumbar part of your body which helps with back pain and also covers half of your feet. They're very easy to wash and dry and are thick enough so you can pair them with a mini skirt and boots or a nice long top and keep you warm during those cold days.
Pros
Very comfortable and fit well
Helps to reduce nausea and fatigue
Helps to keep the swelling under control
Very stretchy
Cons
Can be a bit tight at the knees
Verdict
High waist compression leggings that only fit up to half your foot, but provide a high level of compression. They're designed with soft and breathable fabric that is very comfortable and warm.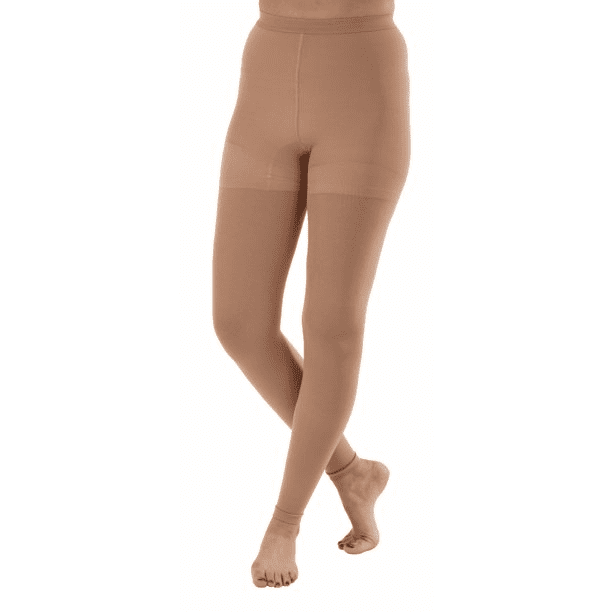 These plus size compression leggings have graduated compression which is highest around your ankles and gradually reduces as you go up to your legs. They're designed with durable opaque nylon and spandex with a control top that comfortable contours around your thighs and waist for that seamless slim look and a footless design for better comfort and flexibility. They're designed to ease discomfort from edema, spider veins, ankle swelling, aching and tired legs. The open foot design allows you to pair them with your favorite sandals or any kind of shoes.
Apart from helping with lymphedema, they can also help to prevent thrombosis for people who don't walk a lot or on bed rest. These leggings provide quality support for your swollen legs so you can wear them outside or sleep in them to relieve the discomfort all day, but also made with a light material that doesn't cover your feet so you can wear them during warm weather.
Pros
Made with good quality material
Comfortable with great compression
Provides excellent support for your legs and feet
The fabric is quite stretchy
Cons
It can be a bit difficult to put on
The fabric might tear at the crotch
Verdict
Compression leggings with graduated compression levels the highest being at your ankles with a gradual reduction as you go up to your legs.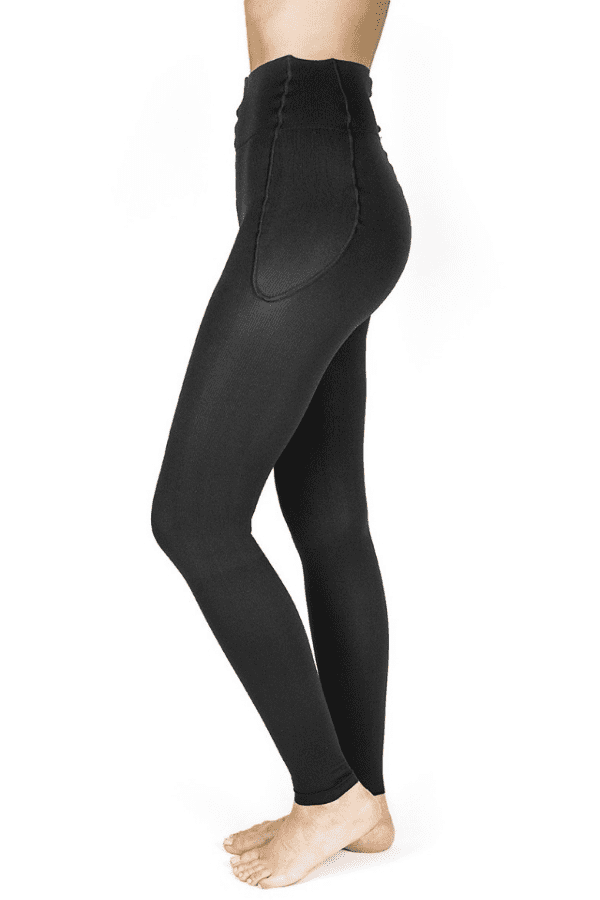 These are high waist compression leggings designed to reach midfoot with a compression level of 18-21 mmHg. They have a strong and reinforced structural design that helps to reduce the effects of lymphedema. They're made with polyamide and elastin which is soft, breathable, and elastic that is comfortable to wear all day without feeling restricted or added pressure. The fabric provides passive massage and compression that helps with the drainage of the lymph fluid.
These leggings are also good at providing compression for your lumbar section which is great for relieving back pain and fatigue in your legs. They're very easy to wash and dry and are warm so you can wear them with boots during the cold weather.
Pros
Thick enough that you can wear alone
Don't have awkward seams at the middle front part
They're soft and not itchy
Effective at controlling the swelling
Cons
The guide size doesn't match your actual size
Verdict
High waist compression leggings with a strong supportive design. They're soft, breathable, and comfortable and you can easily wash and dry without stretching the top.
Compression leggings that are more of fitness leggings and designed the gym, running, yoga, workouts, or for casual wear. They're made with breathable and sweat-wicking fabric that is very stretchy which gives you flexibility and comfort all day. They provide very firm but comfortable pressure around your quads, hamstrings, and calves providing excellent support for your muscles during your work out. The fabric is opaque so you can be confident when bending, stretching, or squatting.
These leggings help to increase blood flow which reduces swelling and fatigued muscles. Wearing compression leggings during and after your workout can help quicken your recovery process and reduce muscle soreness. The material allows you to twist and turn but still hugs you closely giving you a comfortable compression where you need it and improve circulation throughout your body. You can easily wash and dry the leggings and they will still retain their fit even after many washes.
Pros
They're tight yet comfortable
Provide just the right amount of compression
The fabric is soft, silky, and stretchy
Great for running or a night out
Cons
The top waistband can give you muffin tops
Verdict
Great fitness compression leggings that are super comfortable and flexible that you can wear for your run or a night out. To find tops that would go with these leggings, check out my article on the best plus size tops on Amazon.
Conclusion
For you to benefit from the use of the best plus size compression leggings for lymphedema, you should consider the quality of the leggings and getting the right size. Also, ensure they're comfortable to wear all day without exerting more pressure on your legs. You should also consider of the leggings are made with medical-grade fabric, if they have the right degree of compression, are easy to wash and care for, and if they're affordable. Wearing the right compression leggings can help immensely in the long run in reducing the pain and discomfort in your legs.
The Bioflect infrared compression micro-massage leggings are excellent compression leggings that are comfortable, stretchy, opaque, and very supportive to help relieve the aches, pains, and lymph fluid on your legs. They will also keep you warm during the cold days. They help to increase blood flow and reduce muscle fatigue during and after your workout to help benefit more. You can even continue wearing them as you run errands or inside your official trousers to work. Also be sure to checkout my article on the best purses for plus size.