We all have different bodies, some are lean, some tall, others short and the list goes on. If you have bigger thighs or a heavier bottom that most people, chances are you might not be very comfortable wearing running shorts. However, you can invest in the best running shorts for thick thighs to ensure that running doesn't suck so you can enjoy the fresh air.
Running is a very straight forward and easy sport that requires very little investment in sportswear and can be a very rewarding activity for your body. However, if you have big thighs it can become a bit challenging to find the right running shorts because there are a variety of options that can prevent chafing which is a very common problem with thick thighs. There are many factors you should consider when you go out to buy running shorts for thick thighs.
Factors to consider when buying running shorts for thick thighs
Comfort
This is very important and very obvious. The running shorts you decide to wear during your run have to fit properly with enough room for your legs to feel comfortable. This will ensure that you don't feel like your circulation is being cut off from your femur. When you're on the track you don't need to look good, but you need to feel good and this is different for each person. Some people feel comfortable in tight clothes while others like the baggy ones. At the end of the day, you should find a good fit that suits your preference.
Breathability
Running shorts are mostly tight and are shorter than your regular shorts, so they might have issues with breathability. Some of the issues that can affect your shorts breathability include:
Sweat issues: When you're doing strenuous activity, you can't prevent your thighs from sweating. If you wear breathable shorts you will feel cooler and be more comfortable running which will prevent sweat from building up on your thighs.
Odor: Sweat is a very good breeding ground for bacteria which then results in odor. Breathable shorts with a mesh inner lining can help to prevent odor by allowing air to circulate inside the shorts. Shorts with mesh inserts on the sides can also add ventilation.
Fabric
You need to be very careful when it comes to the fabric of your running shorts. Your shorts durability will also depend on the quality of the material the shorts are made of. Most of the running shorts are either made with natural or synthetic material. If you don't know what you're looking for it can be a bit difficult to get the right shorts.
Natural material. Running shorts made with natural fibers are mostly made of cotton which is very comfortable to wear. Cotton is very good at absorbing water and sweat which makes it a good fabric for running shorts, however, cotton isn't very good at moisture-wicking.
Synthetic material. Currently, most running shorts are made from synthetic material like polyester or a blend of polyester and spandex. If you compare it with natural fabric, synthetic materials are better at handling moisture which helps to remove the discomfort when you sweat a lot.
Snug fit
You want to get running shorts made with a material that fits snugly and won't cause any chafing. Shorts made with special compression fabric and elastic waistbands will help keep your shorts in place and prevent them from slowing rolling up your thighs during your run. Flat seamed and seamless construction will help to increase your comfort level and will also ensure your shorts won't rub or chafe, especially if you have thick thighs.
Built-in liner
It's not really a must to get running shorts with an inner liner, but it's more convenient. The liner is for protection and to ensure that your sweat isn't absorbed by the shorts. Most running shorts nowadays are designed with an inner liner, so look for shorts with a soft inner liner which will ensure that the moisture is well controlled. You will be comfortable when running or doing extreme activities.
Durability
You don't want to buy a new pair of running shorts every few months, you want shorts that can last a few years. That's why you need to consider the build material to get the best running shorts. Materials like polyester and nylon are very durable and they don't hold in sweat so they are great material for your running shorts.
Color, length, and style
Most of the time when you're buying clothes online you'll be more attracted to something because of how the model looks in them. However, you need to realize that we all have different and unique body shapes and sometimes the clothes you buy may not fit you the way you want. That's why you need to understand your body shape and know your exact measurements to get the right fit.
Color is very important when it comes to running shorts although it's not a defining factor. However, most people spend a lot of time looking for running shorts in the color they want. In some instances, runners are identified by the color of their running shorts.
Style isn't that important but you want to be trendy even when you're running. You will be seen by a lot of people while you're running so wearing a stylish and comfortable pair of shorts will give you confidence.
Storage
Storage in running shorts is a factor that most runners look for and running shorts with pockets is definitely something to consider. It can get really boring when you're on the trail, especially if you're running in the city where the noise from cars and trucks can interfere with your concentration. Music plays a big part in working out for most people that's why you need shorts with pockets to store your music player. Listening to music helps you to concentrate more on your workout. It's also good to carry some cash with you when you're out on your run. Pockets are also helpful in storing other valuables like your phone, house or car keys, credit cards, and ID cards.
Table for the best running shorts for thick thighs

| Product | Features | Check on Amazon |
| --- | --- | --- |
| | Lightweight fabric, breathable side mesh panels, front and back pockets, moisture-wicking, wide elastic waistband | |
| | Sweat-wicking fabric, breathable, fold-over waistband, snug fit | |
| | Smooth stretchy fabric, breathable side mesh panels, quick-dry lining, drawstring enclosure | |
| | Lightweight, breathable, high waist waistband, side pockets, stretchy, moisture-wicking | |
| | Soft breathable fabric, high waist wide band, interlock seams, gusseted crotch, | |
| | Ultra-light soft fabric, quick-dry, zipper pockets, drawcord waistband, reflective detail, built-in liner | |
| | Comfortable and supportive, quick-dry fabric, lightweight, moisture-wicking, hugs your legs | |
These are running shorts for women with thick thighs. They're made using a lightweight polyester fabric that is moisture-wicking with mesh panels on both sides to help with ventilation. The material also has reflective features all-round that ensure your safety when you're out running and also help to keep you cool during the hot days. These shorts have a broader elastic waistband to give you a bigger yet perfect fit.
The two side pockets and a hidden one at the back are enough to keep your phone, keys, wallet, and other small gadgets. The shaped hem and built-in brief help to enhance coverage without looking bulky or big. They're stylish, high-performing, and functional running shorts that are available in different sizes from small to large and come in a variety of colors and prints to suit different preferences.
Pros
Light and very comfortable
Flattering and not constricting
Have the right length and a snug fit around the waist
The pockets are very useful
Cons
Verdict
Great running shorts for women with thick thighs. They're made with light and moisture-wicking material that is comfortable with enough ventilation and pockets for a comfortable run.
These are women's stretch shorts that are made with high-quality nylon and spandex fabric to give you a perfectly tight fit for your thick thighs. These simple yet sleek shorts are stretchy so they automatically contour with your body, but also very light with a fold-over waistband that helps to envelop your figure making you look slimmer. They're comfortable and breathable shorts that you can wear not only when running but for any other activity. You can hand or machine wash them and even iron them without worrying that they will stretch. They're available in different colors and sizes.
Pros
Super comfortable and fit perfectly
Soft and stretchy
Light and breathable fabric
They contour with your body shape
Cons
The waistband is a bit small
Verdict
Stylish and comfortable running shorts that will contour with your body to give a perfect fit and also ensure that your thighs are well ventilated during your run.
Just like the name suggests, these running shorts are super stretchy and are made with polyester and spandex fabric with an added lining to keep you sweat-free as you run. The breathable mesh panels on the sides provide an outlet for moisture that can build up around your thighs to keep you cool and dry during your run. The fabric allows you to move around freely with ease and adds to your comfort all day. However, these running shorts don't come with side pockets.
Pros
Very comfortable with a great fit
The mesh provides breathability
Has just the right length
Comfortable waistband
Cons
Doesn't have pockets
Sizing is a bit small
Verdict
Comfortable, simple, and stretch running shorts that are made with breathable material with an extra lining to ensure you're cool and dry during your run.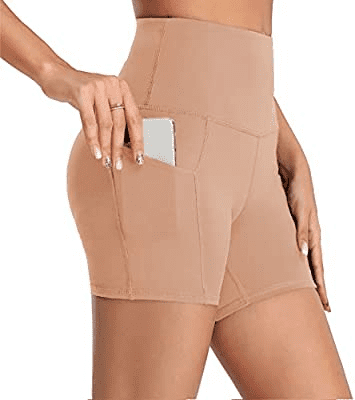 Although these shorts are designed for yoga, they're fantastic for running and come in a variety of beautiful colors that you can choose from. These shorts are made with light, breathable, and moisture-wicking stretchy fabric that will provide you with great comfort and prevent excessive friction and chafing. These shorts have a high waistband that provides tummy control and coverage so you don't have a muffin top and a belly bulge that can embarrass you when stretching or bending.
The side pockets can fit your phone, credit cards, or music player if you love to jam when running. These shorts are fairly comfortable and non-see through so you don't have to worry about being inappropriately dressed during your workout. The gusset at the crotch will add to your comfort and mobility. The shorts are very flattering, functional, and durable for yoga, running, or even everyday wear.
Pros
Have a comfortable fit
They don't ride up
They side pockets are stretchy enough
Well made with a thick material
Cons
The waistband may roll slightly
Verdict
Well-designed high waist yoga shorts that are light and breathable with a stretchy fabric that will provide great comfort all day.
These are excellent running and yoga shorts for women with thick thighs. They are made with a blend of polyester and spandex which makes them soft and smooth against your skin to give you that comfy, cozy feeling during your workout. The shorts are designed to keep moisture away from your body providing maximum comfort during your activities. The high waist feature allows for a snug fit and holds everything in while contouring your body to achieve that perfect look.
The stretchy fabric and gusset crotch will give you the freedom to move without restriction. The two small side pockets will hold your phone and other small items you would like to carry. The material is thick enough so you don't have to worry about showing skin when you bend or stretch while the flat seams help to reduce friction caused by chafing. However, the color of the shorts you see online isn't the actual color, there is a slight difference because of the texture.
Pros
Great comfortable fit
Stretchy and breathable
The side pockets are practical and convenient
Absorbs and wicks away sweat
Cons
The color options are a bit tricky
Verdict
Comfy and cozy shorts that have a soft and smooth feel on your skin with enough flexibility that will allow you to move around freely.
Attractively designed running shorts with unique mesh stitching and lightweight fabric that is breathable with reflective details to ensure you're always in sight in a low light area. The wide elastic waist with a drawcord allows you to adjust the waist to achieve a customized fit. The waistband is soft and comfortable with just enough spandex to maintain its shape. The built-in liner provides low compression which provides extra coverage and supports better blood flow.
The zipper pockets at the back are very safe and convenient for stashing your essentials. The shorts are designed with a stylish mesh that provides more breathability. The ultra-light fabric is soft and breathable with a quick-dry effect so you can stay cool while doing strenuous activities. These are great shorts running, jogging, sports, or just everyday wear.
Pros
Very comfy and look great
Short enough to be flattering
They don't ride up your thighs
Very easy to wash and dry
Cons
The zip pockets can't fit a phone
Verdict
Comfortable and lightweight running shorts made with soft fabric that is breathable and elastic for that perfect fit.
If you have thick muscular thighs, these compression running shorts would be the perfect choice because of their fabric that is designed to hug your body and still give you the freedom to move around uninhibited. This means you won't have to keep tagging on your thighs to keep the material down. The shorts are designed with a quick-dry fabric that will wick moisture away from your skin keeping you cool, dry, and comfortable throughout.
The supportive compressive material helps to increase blood flow and reduce muscle soreness and fatigue while improving circulation. The polyester and spandex blend of fabric is lightweight and moisture-wicking so you'll stay dry and comfortable during your run. These shorts are available in a variety of vibrant colors and prints that you will love.
Pros
They have a snug fit
The elastic at the legs isn't too tight
Very comfortable
They don't ride up
Cons
Not effective at moisture-wicking
Verdict
Very well made compression running shorts that are very comfortable with compression support that will help to increase blood flow and reduce muscle fatigue and soreness.
Conclusion
Even though we all have different preferences, getting the best running shorts for thick thighs doesn't have to be that difficult. As long as you know what you're looking for without forgetting that when you're comfortable it will make your running experience all the more enjoyable. The Under armour women's fly shorts are great running shorts that will provide you with a bigger yet perfect fit with great ventilation and convenient side pockets to keep some essentials for your run.