Tank tops have grown into their style, attracting both casual and athletic consumers. Many sporty pieces, such as flowing tank tops and extra-long tank tops, are excellent for layering with fashionable outfits and leggings while also being functional at the gym. Racerback tank shirts look great with athletic shorts for heavy lifting, aerobics, or your favorite activity.
Tank tops are known for allowing you to move freely, which is ideal for any workout routine. If you want to open a Tank top store, you will undoubtedly want a dependable provider. Here are five of the most reputable Tank Top wholesalers to help you get started.
Freedom of custom designs, expression of creativity in your apparel collection to make it stand apart from the rest of the crowd is only possible by working with clothing manufacturers. Asian clothing manufacturers not only possess the creative sense to realize your designs but also adhere to international quality standards. Check out my article on Top Clothing Manufacturers in USA right now!
List Of Wholesale Tank Top Suppliers and Vendors:
Shirt Max
T-shirt Wholesaler
Apparel Source
Hucai Sportswear
ShirtSpace
1. Shirt Max
Shirt Max is the leading online supplier of wholesale printable clothing. They have got you covered whether you are willing to buy one shirt or in bulk. Other than supplying amazing products, they have excellent customer service. But it is not just the great customer service that sets them apart from the competition; it is the combination of a simple purchase process and the lowest rates available.
They provide a large selection of blank tank tops in wholesale numbers from manufacturers like Gildan, Bella Canvas, Anvil, Alo, Comfort Colors, and others.
Cotton tanks, 2×1 ribs, spaghetti straps, tank dresses, and a variety of other designs are among their offerings. They have a large selection of colors and sizes. If you order a large number of tank tops, you will receive a volume discount, which will be added to your order immediately at checkout.
This company's leaders have more than 50 years of experience in the wholesale apparel industry. You may rest convinced that they have picked up additional knowledge throughout this period to provide you with the best.
Products: 
Racerback Tank.

V-neck Tank.

Jersey.

Hoodies.

T-shirts.

Sweatshirts.
Contact: 
customerservice@shirtmax.com
Address: 
PO Box 675697 Marietta, GA 30006
Click here to check out their website
2. T-shirt Wholesaler
T-shirt Wholesalers have been in business for a long time and know what is popular among their customers. It does not matter if you prefer traditional tank top combinations or cutting-edge style; they have it all at fantastic wholesale costs. Cropped, boxy, color block, slouchy, burnout, side slit, muscle shirt, and youth variants are also available, each with its unique design and application.
They have next-level clothing with a touch of elegance and whimsy. They offer everything you need, whether it is a simple v-neck or crew neck shirt, or one of these timeless patterns. Fabric mixes in various degrees are offered for their tank tops. Most are suited for direct-to-shirt printing, so you can easily add your design while maintaining the application's transparency. 
 They offer ring-spun combed cotton, polycotton blends, and tri-blend textiles which are suitable for colder climates that retain heat and moisture. They are also well-suited with warmer climates that require clothing that wicks moisture away from the body to keep you drier and cooler.
They can help you discover anything you are searching for in wholesale personal or team sporting clothing, with multiple sizes, colors, and style possibilities.
Products: 
Cropped Tank Tops

Extra Long Tank Tops

Flowy Tank Tops

Muscle Tank Tops

Racerback Tank Tops

Ribbed Tank Tops

Standard Tank Tops
Contact: 
Phone: (800) 332-6576
Address: 
1780 Forrest Way Carson City, NV 89706
Click here to check out their website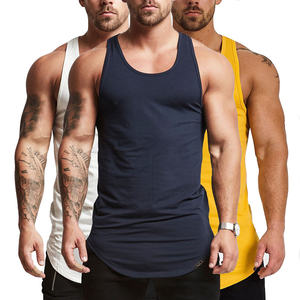 3. Apparel Source
The Apparel Source Inc., situated in San Leandro, California, has been a wholesale distributor of high-quality tank tops for almost 50 years. They value both large and small customers, therefore no order is too small for them. They are recognized for their prompt service, low prices, and high-quality clothes.
To buy wholesale from The Apparel Source, you must have a valid state-issued resale license in an apparel-related industry. You must provide a signed resale certificate before placing your first order. If you come from a country where there is no sales tax, a business license will suffice.
There is no minimum order quantity, and you will not be charged more if you break or mix dozens. They strive to meet the needs of screen printers and embroiderers. Their product range has grown to include infant clothes, young women's designs, dress shirts, jackets, and much more other than tank tops. 
Products: 
T-Shirts.

Tank Tops.

Sport Shirts.

Fleece.

Outerwear/Jackets.

Aprons.

Athletics.
Contact: 
Toll Free: (800) 869-8400
Local phone: (510) 663-2221
Fax: (510) 663-2225
Address: 
2993 Teagarden Street. San Leandro, CA 94577
Click here to check out their website
4. Hucai Sportswear
Hucai Sportswear first opened its doors in 1998. They are a reputable producer and wholesale supplier of men's and women's gym wear, fitness clothes, and exercise apparel such as yoga pants, leggings, sports bras, gym t-shirts, tracksuits, tank tops, and other similar items. They may provide a private label service and create garments based on your ideas and specifications.
Hucai Sportswear, as one of China's leading wholesale tank top manufacturers for both men and women, can offer both casual and gym tank tops. Since they are located in the largest fabric market in the southeast of China, they can utilize a variety of fabrics for your branded tank tops, including 100% cotton, spandex/cotton, and functional spandex/polyester.
Products: 
Tank Top

T-Shirts

Tracksuit

Jacket

Shorts

Athletic Uniforms
Contact: 
info@hucaisportswear.com
Address: 
Building A4, No. 5, Nanmian Industrial park, Humen Town, Dongguan, Guangdong, China 523900
Click here to check out their website
5. ShirtSpace
ShirtSpace has gone a long way from its start over 15 years ago when it was created in 2004 by screen printing supplies pioneer Ryonet and bought just one year later by a Ryonet employee. ShirtSpace is a creative, committed team of people that all contribute distinct skills and colorful characters to the workplace. 
Visit their wholesale tank tops for printing in men's, women's, and children's styles and sizes, and pick any color in the rainbow without compromising quality for affordable wholesale costs.
ShirtSpace sources the highest-quality bulk tank shirts from the world's most well-known brands. 100% cotton tanks, tear-away tags, racer-back designs, moisture-wicking, and more are all available.
Products: 
T-Shirts 

Jackets & Coats 

Sweatshirts 

Hats & Beanies 

Polos
Contact: 
Phone: (877) 285-7606
Address: 
7509 S. 5th St. Suite 113-C Ridgefield, WA 98642
Click here to checkout their website
Check out our article on the List Of Clothing manufacturers in Dubai