Everything about your looks can be changed with the appropriate shoe. Shoes are a must-have fashion item that can make or break an outfit. The worldwide footwear market was valued at more than $360 billion last year. In addition, the growing prevalence of the internet, as well as people's enthusiasm for shoes, has increased consumer interest in online footwear buying.
You have arrived at the right place if you want to learn more about the high-end designer shoe business and discover dependable wholesale shoe suppliers vendors for your boutique. 
Here is a list of the top 5 reliable wholesale shoe vendors and suppliers for boutiques from across the world, along with the relevant information about the companies to help you get started.
Do you want to bring your own custom shoe designs to life? Well, what you need is a reliable shoe manufacturer that not only has the experience to bring your designs to life but also ensures adherence to international quality standards. To learn more click here.
List of Wholesale Shoe Vendors for Boutiques
LJ & R Footwear
Shoestocks
Hot Miami Shoes
Mega Footwear
Wholesale Fashion Shoes
1. LJ & R Footwear
L J & R Footwear is among the top footwear wholesalers in the United Kingdom, supplying boutique owners and retailers with branded shoes for men, women, and children, with over 40 years of expertise in the sector. This wholesaler provides outstanding customer service as well as a large selection of high-quality shoes from well-known, established brands at reasonable pricing.
L J & R Footwear has several well-known, established brands that have helped the company develop from leaps and bounds and build a well-known position among a variety of clients at different levels of distribution. Their excellent footwear collection is on display in their display centers and at a series of economic fairs year-round. 
Twice a year, they also publish a high-quality catalog. Their Cash & Carry Showroom is open Monday to Friday from 7 a.m. to 5 p.m., and you can view and purchase items on spot. Another thing to keep in mind regarding L J & R Footwear is that it exclusively ships to Europe, and orders are typically fulfilled in 2-6 business days.
Products: 
Flats

Wedges

Heels

Sandals

Ankle Boots

Mid-calf Boots

Slippers
Address: 
Bacup Road, Waterfoot, Rossendale, BB4 7HB.
Contact: 
Phone: 01706 217139
Click here to check out their website
2. Shoestocks
Shoesstocks, a dependable wholesale provider of end-of-season clearance stock, provides a large assortment of designer shoes from top European brands. The firm, which is based in Barcelona, Spain, imports items straight from manufacturers or well-known apparel chain shops, offering retailers all over the world brand-new designer stuff with all barcodes, tags, and labels intact.
Shoesstocks is a well-known stock clearance firm that deals in wholesale shoes of all types. They buy shoes in bulk from major European brand owners, manufacturers, and distributors. They provide exquisite wholesale clearance footwear from recent years' collections to retail boutiques, online retail shops, eBay and Amazon sellers, and chain stores all over the globe.
Shoesstocks is known for its high-quality items, prompt and dependable shipping, and outstanding customer service. Please bear in mind that their seasonal deals are only available before the start of the following selling season, so you will need to prepare in advance to take advantage of them.
Products: 
Fashion Shoes

Flats

Slippers

Slides

Heels

Sneakers

Trainers

Boots
Address: 
Rambla Paisos Catalans 10, 08800 Vilanova-i-la Geltrú, Barcelona – SPAIN
Contact: 
Whatsapp: +34 / 633430131
Click here to check out their website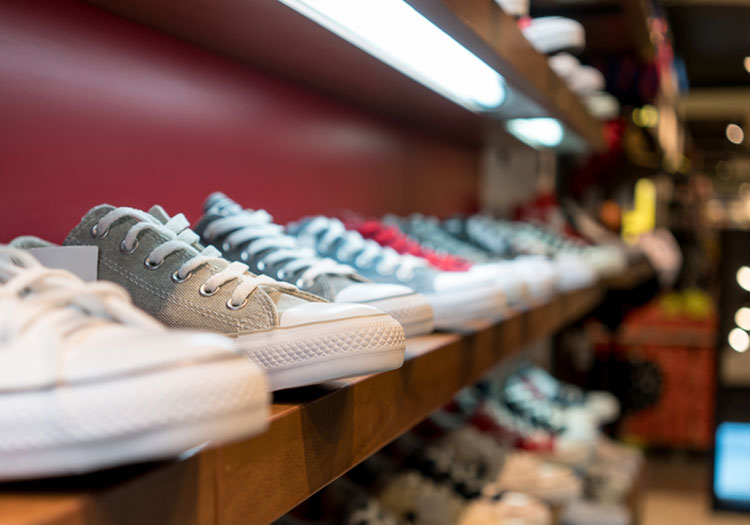 3. Hot Miami Shoes
Hot Miami Shoes is a women's fashion retailer offering a wide range of fashion accessories, and shoes of all types. Hot Miami Shoes, based in Lauderhill, FL, offers wholesale discounts on most of their items with a minimum order of 15 pairs each order, all of which are highly discounted and dispatched swiftly internationally.
Hot Miami Shoes seeks to give the most up-to-date stylish footwear at affordable costs with excellent customer service. Their stylish collection is the ideal addition for a wedding, religious ceremony, or professional atmosphere, with a broad inventory of shoes. They sell up to size 12 and carry all the current styles.
Their top goal is customer satisfaction, and they provide competitive prices. You will not be disappointed by their inexpensive costs daily. They have well-trained warehouse personnel who thoroughly verify orders before distribution, ensuring excellent quality control.
Products: 
Gladiators

Comfort Shoes

Bridal Shoes

Flats

Office Shoes

Heels

Wedges

Pumps

Sneakers

Sandals

Booties

Boots
Address: 
1475 N State Rd 7, Lauderhill, FL 33313
Contact: 
Phone: (954) 792-9988
Click here to check out their website
4. Mega Footwear
Mega Footwear has been in the footwear business for more than ten years. They have developed strong ties with their suppliers throughout the years. Their goal is to supply boutiques, shops, and other businesses with high-quality footwear at reasonable pricing. They currently have over 400 styles to choose from, ranging from low-cost to branded.
They are a wholesale distributor of trendy footwear for stores in more than 37 countries. Mega Footwear offers low-cost wholesale shoes in quantities ranging from 12 to 18 pairs per order.
They work out of a warehouse and office in the surroundings of Queensbury, West Yorkshire. Kindly be informed that they are only available for mail orders and cannot be picked up in person. When their overheads are reduced, they can pass the savings on to you.
Products: 
Anthony Wang Shoes

Promotional Shoes

Pumps

Wedges

Sandals

Flats

Boots
Address: 
3 Ambler Way, Queensbury, Bradford, BD13 2NU.
Contact: 
Telephone: 01274 317164
Click here to check out their website
5. Wholesale Fashion Shoes
Wholesale Fashion Shoes is a wholesaler of women's shoes and accessories situated in Phoenix, Arizona. They provide speedy delivery to the United States, and their regular footwear deals make them an appealing alternative for ladies looking for high-quality, fashionable footwear.
Wholesale Fashion Shoes has developed by leaps and bounds in just three years, necessitating a shift to larger quarters. They discovered the ideal location for their new mega shop a little farther down the street. They have become recognized for their incredible selection of one-of-a-kind, reasonably priced, and up-to-date fashion shoes and accessories.
Products: 
Flats

Wedges

Heels,

Sandals

Boots

Slippers
Address: 
Camelback East – 4041 E Thomas Rd.
Contact: 
Customer Service: (602) 267-6477
Click here to check out their website
Check out our article on How Much Does it Cost to Manufacture Clothing in China?