As a manufacturing hub, China's economy booms, and its products appear to be everywhere. "Made in China" is prominently displayed on the majority of tags, labels, and stickers on a wide range of products. Some may believe that the widespread availability of Chinese goods is due to the availability of low-cost Chinese labor, there is much more to the story than that though. 
For its robust business environment, short of regulatory requirements, cheap taxes and customs, and competitive currency practices, China has been renowned as the world's factory, in addition to its low-cost labor.
Many fashion buyers and brand corporations desire their apparel products to be custom-made. Printed cotton t-shirts, as well as lady's skirts and dresses, sports or swimming gear, knitwear, and other items with fashionable printed fabric, are some of the examples. 
Bulk apparel orders were placed with Chinese manufacturers as a result of these customized demands. One of the finest benefits of manufacturing apparel in China is that it is less expensive than manufacturing in other nations. 
Cheaper production costs in China lead to higher profit margins and lower pricing for consumers. With decreased production costs, your brand's gross profit will definitely rise.
A cheaper price can encourage many customers to buy your merchandise when they compete with others in the physical or digital market. Even when transportation expenses are factored in, manufacturing in China is generally less expensive.
Clothing production is not an issue for experienced fashion purchasers because they have already established a solid supply network with Chinese manufacturers.  
Manufacturing can be a headache for new business owners since it necessitates financial management, which is a challenging task. Although clothing manufacturing in China is relatively inexpensive, you should be aware of the aspects that impact the cost before making an order.
Various Manufacturers
Typically, different types of clothes must be manufactured using specific machinery. Depending on their affordability and specialty, various Chinese manufacturers would provide different services and packages. As a garments product vendor or buyer, you may be required to purchase new collections for each season, which means you may interact with and transact business with a variety of manufacturers. 
When you make an order with Chinese manufacturers, you may discover that some of them are cost-effective in terms of your budget, while others are not. Furthermore, each supplier charges for their fabrics and materials differently because textile garment manufacturers operate in different China cities. 
Each manufacturer has a different regulatory structure or Chinese government policies because the consuming index, material buying cost, and clothing production cost are all different. Meanwhile, workers' objectives may vary owing to variations in equipment and skillsets.
Complexity of Garments
There are hundreds of clothing categories, such as winter coats, sportswear, hoodies, blouses, jeans, etc.. And, regardless of the design you pick, each apparel category has subgroups such as style, components and features, textile materials, fabric alternatives, size and color, and so on.
Typically, the more complicated the design of clothes, the longer it takes to manufacture them, and time equals labor expense. As a result, production costs will undoubtedly rise.
Furthermore, complicated design typically implies a greater technical and skill need of workers, as well as a larger risk of quality control and the management cost of the Chinese manufacturer to create apparel.
Fabric Materials
The cost of apparel manufacturing is heavily influenced by the fabric. Because the fabrics you select will eventually influence the cost of purchasing the clothes.
If you wish to have the featured fabric, it typically entails a higher purchase price because customized materials are more expensive than stock-ready items. If you want a custom-made fabric color, printing, or dying, you will have to pay extra for it and wait longer for it to arrive.
Textile embellishments or trimmings, on the other hand, are crucial for clothes purchasing costs as well. There are also the different qualities of each trim or accessory. This implies that the trims you select will influence the cost of producing apparel.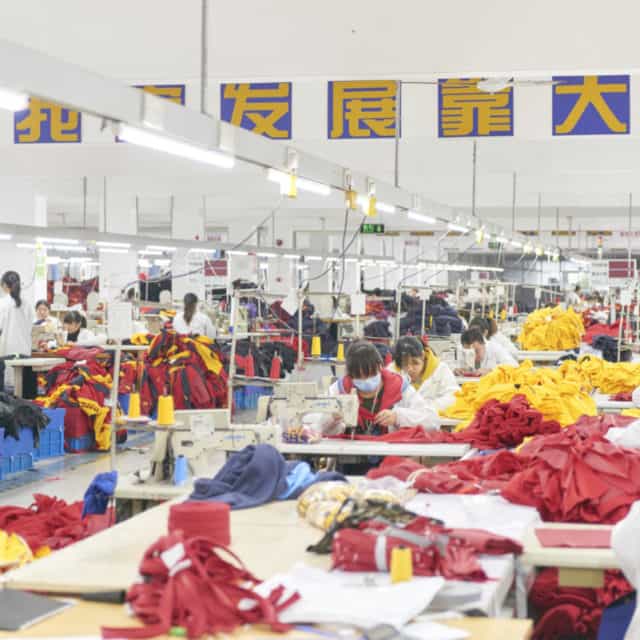 Dyeing and Printing
The cost of purchasing apparel will be influenced by the dyeing and printing of your fabrics also. To avoid waste while dyeing clothes, Chinese manufacturers first evaluate the kind and composition of fabric before preparing dye solutions.
Printing your fabric, like dyeing, will affect the purchasing cost of garment manufacturing since the printing fabric is dependent on different processes such as screen printing fabric or digital printing fabric. Then, depending on your ideas, you must contend with various purchasing pricing structures. 
Labor Cost
In recent years, labor costs have been a major issue for apparel manufacturers. For an experienced pattern maker, the labor cost jumped from USD 40 to USD 80 per day. And between USD 30 and USD 50 for regular sewing employees. This means that the cost of purchasing apparel will be greater than before.
Conclusion
For apparel manufacturing in China, you must first learn about the production costs and have a better understanding of the production costs of custom-made orders from Chinese manufacturers. 
When you comprehend the procedure of a Chinese manufacturer, such as the differences in machine and technique, MOQ requirements, the purchasing cost for custom-made fabric printing, dyeing, accessories, and so on, you can estimate the total cost for clothing manufacturing in China.