Uniform wholesalers all around the world have an extensive market to serve. Nowadays, a scattered wholesale market has emerged that is providing uniforms with no requirement of a particular minimum quantity. Uniform wholesalers are willing to design clothes according to the client's needs.
One of the best services offered by the uniform wholesalers is their special attention towards customer dealing and client satisfaction.
If you have Intentions of importing school uniforms from International brands but are unable to find a suitable manufacturer according to your needs then here is the guide you have been looking for.
In this article, we have listed down some of the most internationally acclaimed and successful school uniform manufacturers from all around the world along with their profile details, main products, and contact information.
Dubai is the hub when it comes to custom uniform suppliers. We have sourced the best clothing manufacturers in Dubai because you deserve the best. Click here to learn more. 
List of Wholesale & Bulk School Uniforms Suppliers
UniPro International
Xiamen Xinstar Import and Export Co., Ltd.
Dollar Days
Oasis Uniform California
Shandong Aoshi Garments
1. UniPro International
Unipro International uniform originated in 2009, located 15 miles away from Irvington, New Jersey. Unipro is a wholesale distributor of uniform apparel along with having manufacturing facilities in China and Mexico. From its inception, the company has had well-established work relationships with multiple International distributors and wholesalers. 
Unipro is committed to providing premium quality school, security, and police uniforms to small, medium, and large-size end-users distributors. The widely distinguished manufacturers have various sets of machines and multiple development manufacturing lines.
They are using the latest manufacturing machinery and just-in-time systems to speed the manufacturing process for a shipping period of 24 to 48 hours from the beginning of purchase orders. 
Unipro has maintained in-house services of art embroidery, stitching, alteration, and customization of garments in their factories. The company has an online management system that is comprehensively operating with customers' needs from taking introduction, invoice management, budget allocation to client customization orders. They are also providing online customized web pages to their customers, to ensure their needs are being met.
Products
School Uniform

Executive & career apparel

Thermals

Duty gear & equipment

Safety gears
Contact
Call: (888) 691-6200
Address
390 Nye Avenue, Irvington NJ 07111
Email
info@uniprouniforms.com
Click here to check out their website
2. Xiamen Xinstar Import and Export Co., Ltd.
Xiamen Xinaster import and export started their operations in Jimei Xiamen City, China in the year of 2009. They are one of the most significant school uniform wholesale suppliers from China. The company has a huge set-up of roughly 6,000 square meters along with 200 crew members working in the manufacturing factory. 
They currently have ten processing lines along with numerous high-tech machinery such as imported sewing machines. They are producing an output of 5 to 10 million US dollars on an annual basis.
The company is ensuring high-quality material production of school uniforms and they are also offering BSCI global market certified fabric while fulfilling all the regulations and specifications of international standards.
Currently, Xinaster is exporting 90% of their production particularly school uniforms and other garments in various regions such as south-east Asia, the USA, Africa, South Korea, the Middle East, Japan, and Europe.
Products
School Blazers

School uniforms

Kid's garments

Casual wear

School Jackets
Contact
Telephone: 86-52-6152689
Fax: 86-592-3190040
Mobile: 18030076171
Address
Xiamen Xinstar Import and Export Co., Ltd., Fujian, China,
Email
buyerservice@made-in-china.com
Click here to check out their website
3. Dollar Days
Dollar Days was founded in the year 2001. The leading company is providing wholesale school uniforms along with accomplishing their mission to deliver high-value products which will enable them to improve the lives of their customers.
They assure their customers of not being content with just being another online wholesaler but in reality, they hold a desire to be a part of something greater than only manufacturing.
Currently, they are equipped with 10 garment development assembly lines that are fully automated along with 400 production equipment. This high-end technology is enabling them to create an output value of 2.5 million US dollars roughly.
The company is ensuring the quality of its authentic and high-grade fabric. All of the garments produced by the firm are fabricated with licensed ISO global specification and industry requirements. Dollar Days is roughly exporting 70% of their produced school uniforms along with other garments in more than 20 regions such as Hong Kong, Japan, Spain, Middle East, Europe, and Southeast Asia, etc.
Products
School Uniforms

School supplies

PPE, Masks, Sanitizers

Office Supplies

Luggage & travel accessories
Contact
Call: +1 877-837-9569, +1 480-922-8155
Address
2617 South 46th Street, Suite 300, Phoenix, Arizona 85034, United States of America.
Email
service@dollardays.com
Click here to check out their website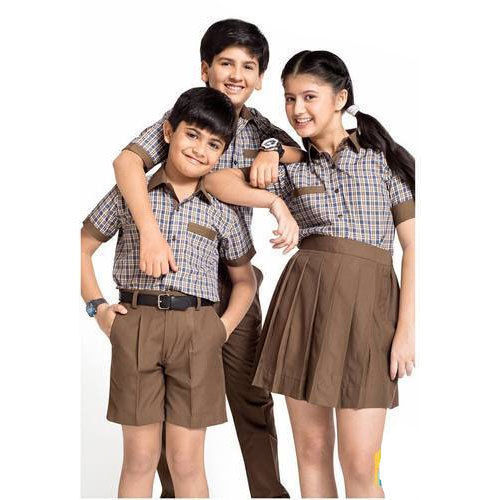 4. Oasis Uniform California
Oasis uniform claims to be the treasured hub of the uniform manufacturer and wholesale supplier. They are one of the leading distributors, exporters, and manufacturers of customized uniforms worldwide. Oasis uniforms is offering a huge range of product lines above 4000 different variants. 
Oasis claims to use strong and comfortable fabric to manufacture their garments which uphold the international quality benchmarks and principal set by ISO. 40 to 50% of produced Garments and school uniforms are exported by Oasis to multiple countries. Their major export market is Europe, Middle East, Africa, and Australia.
Products
School Uniforms

Scrubs

Flannel clothing uniform

Formal Uniform

Engineer's uniforms
Contact
Call: 1 855 525 2642
Address
Penthouse, 8730 Wilshire Blvd, Beverly Hills, California 90210, USA.
Email
info@oasisuniform.net
Click here to check out their website
5. Shandong Aoshi Garments
Shandong Aoshi Garments originated in Feicheng city China in the year of 1956. Currently, the company is one of the notable school uniform exporters from China. The production workshop is based on 15,000 square meters with 1500 skilled employees on board. Shandong is also promoting customization services to OEM and ODM according to the customer's requirement.
The company owns 6 hi-grade assembly lines which are equipped with automated machinery. The annual output generated by the Shandong is 6 to 10 million US dollars.
Products
School uniforms

Casual wear

Children's wear

Men's suit

Woolen coats
Contact
Telephone: 86-13681686849
Fax: 86-538-3303376
Mobile: 15610709828
Address
Feicheng High and New Technology and Industry development Zone, Feicheng City, Shandong China. 271600
Email
buyerservice@made-in-china.com
Click here to check out their website
Check out our article on the Top 8 Best Clothing Manufacturers in Japan