If there's one clothing article that every man and woman has in the closet, it's a tank top.
The big armholes and neckline make you look sexy and are also a blessing in extreme summers.
It doesn't matter where you are going, tank tops always look good.
You can wear a tank top alone for a casual mall trip or pair it with a jacket or flannel for a stylish look.
Tank tops are our closet staple today but have you ever wondered how the clothing article got its name?
The fashion industry is full of fascinating stories, and one of those is related to tank tops.
The story of how tank tops got the name is quite old and scandalous. We all know that women had no freedom of expression in the early times.
They had to wear loose, modest clothes that would not stick to the body or show skin.
These rules were affecting the efficiency of female athletes, especially swimmers. Swimming is all about arm movements.
Fitted clothes around arms mean hindrance in movements, which may lead even the best swimmer to perform poorly
In the early 1900s, women swimmers wore uniforms with long sleeves and excessive fabric around the waistline.
The uniform needed to be modest even if it hindered the athlete's performance.
With passing years, however, the woman empowerment movement became popular.
Women became bolder with their clothing choices and showcased their desire to wear clothes that would help them work more efficiently.
In 1912 women swimmers were given a chance to participate in the Olympics for the first time.
The female contestants saw this as a chance to wear something that later became a summer staple- maillot.
Maillot was the first-ever form of the tank tops we wear today. The silk one-piece had a short length, low neckline, and strap-like sleeves.
Though the men swimmers wore similar suits, women became a part of the scandal for wearing indecent clothes.
The news spread, and since maillot was a weird name, they gave the scandalous swimwear a new name- tank suit.
At the time, swimming pools were called tanks, and tank suits seemed like the perfect name for the tight, short-sleeved apparel.
Over the decades, swimwear evolved, and so did the tank suit.
The lower part of the apparel disappeared, and from one piece, it became a body-hugging top, also known as a tank top.
So in short, tank tops are called tank tops because they are evolved forms of swimwear known as tank suits.
Why are tank tops known as wife beaters?
The scandals surrounding tank tops did not end in the 1920s. For some reason, the clothing article always got negative attention.
During the 1930s and 40s, tank tops became popular costumes for Bollywood villains.
The villains abused women be it their wives or sisters. In the 1950s, Marlon Brando played the role of vile villain Stanley Kowalski who always wore tank tops.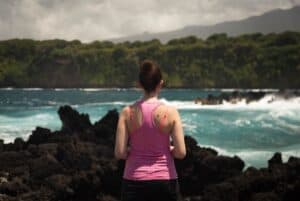 Stanley forces himself onto his brother's wife and rapes her viciously.
This, along with other famous villains of movies like Footloose, gave tank tops a negative image. In the United States, the innocent clothing article got its new name- the wife beater.
When did tank tops become widely accepted amongst people?
Tank tops had been around for decades, but it wasn't until the 1970s that the general population incorporated them into their daily wear.
At that time, loose bottoms with body-fitting tops were super trendy, so people started pairing tank tops with flowy pants or jeans.
Slowly, tank tops became more popular because of their versatility. People started wearing tank tops on a hot summer day to run errands and chill in them on beach picnics.
In the winter season, the blazer or leather jacket on top of the tank top protects the users from the cold weather while giving them a chic look.
Today, the inexpensive clothing article is a wardrobe staple for men and women. It comes in several colors and sizes and can be worn anywhere from gym and mall to casual lunch dates and beach picnics.
How to style tank tops in 2022?
The tank top is one clothing article that is evergreen. When styled the right way, you can wear it every season. Since they are inexpensive, you can get them in different colors and create new, chic looks with them.
Today, tank tops come in different forms. Some are body fitting, others are loose, some take a v neckline, and some have a round one. This variety allows you to get what would look the best on you.
As far as styling is concerned, we've got the best tips for you. So let's take a look.
Tip number one is accessorization. If you plan to wear a plain tank top to a brunch or girl's night out, make sure you accessorize it. Wear bold, eye-catching earrings or chunky neck pieces to add glamour.
A cute purse or cross-body bag can make your basic tank top stand out.
The second tip is to invest in neutral-colored tank tops. You can pair these neutral colors with a cardigan and pencil skirt to give you the perfect office outfit.
Out of work, you can top them with a funky jacket or complete the look with baggy jeans.
Since 2022 is all about midi skirts, tuck your tank top into one and use a statement belt to cinch your waistline, put your hair in a low ponytail and wear hoops.
This look is perfect for picnics or lunch dates with your girlies.
Lastly, make sure you wear a seamless bra underneath your tank top, always tuck it in if you are wearing skinny jeans, opt for silk tank tops as it's super trendy, wear tank tops with wider straps, and don't shy away from laying your tank top.
We promise that you will see a huge difference in your appearance with these tips. Don't believe us? Try them yourself and thank us later.