Blank apparel means no added decoration. The goal of blank clothing manufacturers and suppliers is to address the diversified needs of retail store owners, mass store markets, or private labels.
These companies source the best quality basic apparel, including blank t-shirts, hoodies, jackets, pullovers, and other clothing items to clothing brand owners  re-label, custom print, or resell them to their consumers.
Getting started with your clothing brand requires the owners to find the best wholesale blank t-shirt suppliers. 
In this article, we have provided the list of the top 5 wholesale blank t-shirts suppliers worldwide for new and existing brand owners. These manufacturers are already supplying high-end blank apparel to established companies and brands.
If you are looking for big quantities I would recommend you to import these yourself from Asia, most blank apparel is made in Bangladesh. Read my article on clothing manufacturers in Bangladesh.
List of Top 5 Wholesale Blank T-shirt Suppliers:
Blank Shirts
The Adair Group
Needen
Blank style
Cotton Connection
1. Blank Shirts:
Blank Shirts has successfully achieved a milestone of supplying top-quality wholesale blank t-shirts for twenty years. Blank shirts are capable of providing both single and bulk quantity t-shirts, parallel to your needs both quantity wise and color wise. Blank Shirts produce premium quality apparel and collaborate with some top-rated brands, including Fruit of the Loom, Gildan, Hanes, Bella+Canvas, Next Level Apparel, to meet their demands.
Blank Shirts saves your time and money and offers innumerable blank attire options for custom printing, such as blank tank tops, hoodies, polo shirts, and many more. No minimum quantity is required to place an order from Blank Shirts. Blank Shirts offers fast shipping services as they own several warehouses located in Florida, Pennsylvania, Illinois, Colorado, California, Washington, Kansas, Texas, Massachusetts, and Georgia.
Products
:
T-shirts

Pullover

Jackets

Tank tops
Services
:
No minimum quantity for bulk order

Fast and reliable shipping services

Accepts several payment methods

Free return shipping
Location:
Blank Shirts 1780 Forrest Way Carson City, NV 89706
Click here to check out their website
2. The Adair Group:
The Adair Group has been able to provide high-quality, stylish, and affordable blank t-shirts with a wide assortment of colors, quality, size, and style, for three generations within Atlanta and throughout the country. They are a wholesale high-end t-shirts supplier to several leading brands, including Anvil, Alstyle, Jerzees, Gildan, and Hanes, which confirms their product's excellence. You can customize them according to your needs apt for any organization, institution, or event.
They have the most extensive catalog of the latest apparel collection that meets the needs of men, women, and children. The Adair Group keeps renewing their site with up to date inventory, including tie-dye, wide-ranging color options, and headwear accessories. It coaxes the customers to keep coming back for more to hit the market. Bystanders might feel covetous of your wow appearance and the range of options you can relish while placing an order from The Adair Group.
Products
:
Long/short sleeves t-shirt

Pocket t-shirts

Sweatshirts

Polos

Hats
Services
:
Secure payment and direct checkout

Multiple payment methods

30 days Return policy 

24/7 Online shopping services 
Location
:
 1379 Logan Circle, Atlanta, GA 30318
Click here to checkout their website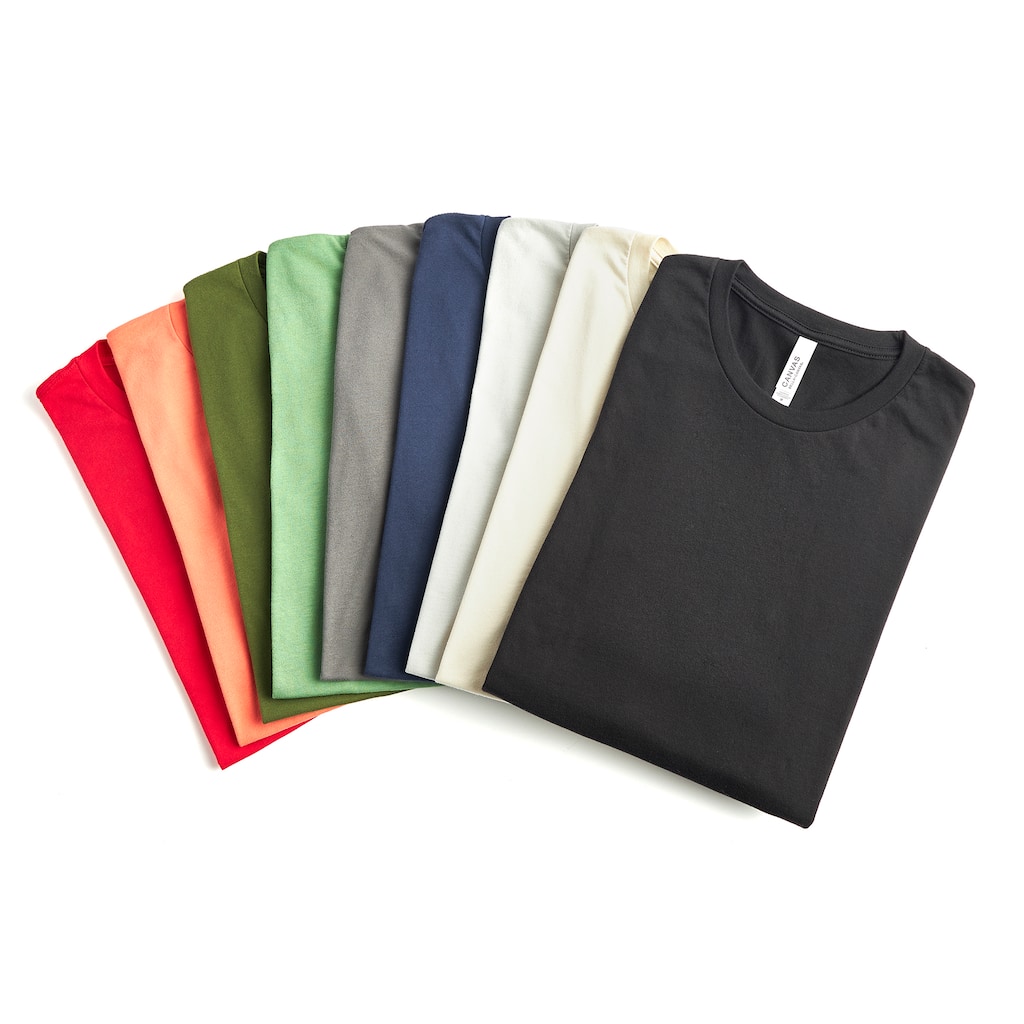 3. Needen
:
Needen is a Canadian-based wholesale supplier blank t-shirts. The company has been supplying its stock to multiple stores since 2017, and their product range is seen across the country. Needen supports multiple clothing production lines in the fashion industry apt for any style and any event. The company collaborates with some of the leading brands and serves the customers with their wide-ranging merchandise at the most reasonable prices.
You can place your order of t-shirts from Needen in bulk quantity according to your taste and demands, as they produce any item not less than ten different colors and designs. They also bestow resellers a favour of tear-away labelled products that they can resale in their shops at a significant profit margin.
The company owns an extensive range of blank shirts on their website and at their physical locations that enables them to ship your required clothing items in any area without delay.
Products
:
V neck t-shirts

Short/long sleeve t-shirts

Ringer tees

Poly/cotton t-shirts

Performance t-shirts
Services
:
Free shipping services on all orders above $149

Offering the largest catalog with 30 brands

Quick shipping#
Location
:
Montreal, QC H2Z 1G6, Canada
Click here to checkout their website
4. Blank style:
Located in sunny Southern California, Blank style takes pride in undertaking the responsibility of supplying wholesale blank apparel addressing the universal needs of their valuable customers. They present an all-embracing assortment of diverse product range from a wide array of manufacturers.
The entire collection of blank t-shirts portrays distinct traits ranging from 100% cotton tees to 100% polyester, crew neck t-shirts to V necks t-shirts, and low-cost tees to most cutting-edge t-shirts. The merchandise is appropriate for any project and suitable for any brand.
They collaborate with 85 different manufacturers of blank apparel, creating more than 3500 varied clothing items to meet your apparel needs. Blank Style boasts the largest communication network in the country and offers you lightning-fast shipping services from their 18 warehouses located all over the country.
Whether it's the conceptualization of your ideas, creating a finished product, or delivering blank apparel to your printer, Blank style always serves you with the best quality products and effective guidance. 
Products
:
Plain white tees

Crew neck tees 

Raglan shirts

Tagless t-shirts

Low-cost tees
Services
:
Screen Printing, 

Direct-to-Garment printing

Embroidery

Dye Sublimation

Free shipping over $99
Location
:
2569 McCabe Way STE 210 Irvine, CA 92614
Click here to check out their website
5. Cotton Connection:
Cotton Connection is a leading wholesale supplier of first quality irregulars and closeouts items from high-ranked mills worldwide. The popular brands' names include Fruit of the Loom, Anvil, Hanes, and Jerzees. They have been a confident sourcing agent to accomplish your wide-ranging apparel and hosiery needs for thirty years, including T-shirts, sports shirts, hooded pullovers, sweatshirts, and sports accessories.
The company aims at providing wholesale blank t-shirts at a reasonably low cost without sacrificing the quality. They are currently serving a comprehensive customer range such as wholesalers, non-profit organizations, flea market vendors, screen printers, embroiders, mass-market retail stores, and product promotion companies.
Products
:
Youth t-shirts

Ladies t-shirts

Tie-dye shirts

Long/short sleeve tees

V neck t-shirts
Services
:
Knowledgeable customer service representatives

Return policy 

Shipping services
Location
:
4920 S. Monitor Ave, Chicago, IL, 60638
Click here to check out their website