The clothing industry in France is acknowledged as one of the leading fashion harbingers worldwide. France is the center of fashion designing, and some of the well-known French clothing brands are worn by people around the globe. Apparel is the largest segment in the French Fashion industry as the industry's revenue reached up to USD 13 billion per annum and is expected to outdo USD 20 billion by the end of the year 2021. France stands at the third position in European clothing and apparel manufacturing lying behind Italy and Germany. 
French women's clothing is considered one of the best attire, and linen fiber is the crucial constituent in this category as France contributes to 70 % of European cloth manufacturing. The clothing brand designers find it quite intimidating to search for the best clothing manufacturers in France. In this article, we have provided the list of the top five clothing manufacturers in France with detailed company structure and production procedures for your convenience.
We believe that finding the right manufacturers for your products plays a crucial role in giving life to your designs. But where to find experienced manufacturers who fit your requirements is the real question. We have compiled a list of the best Apparel and Garment sourcing companies that can help you connect with the manufacturers you need. Read our article on the Top Apparel Sourcing Companies to learn more.
List of Clothing Manufacturers in France:
Adenio confection de Haute Facon
LG Couture France
Christian Dior
Maje Paris
Eric Bompard SA
1. Adenio confection de Haute Facon:
Adenio is a workshop on haute couture located in Lyon, offering you 100 % French-made apparel. The trained seamstress craft and manufacture diverse, precise, and atypical products according to your required personalization.
All their products are made using the finest material, including silk, lace, woolen, tulle, chiffon, crepe, and cashmere. The product range includes scarves, stoles, and ready-to-wear products, as they have worked with the most popular luxury brands in France. 
Customers deserve proximity and quality from start to end during the transformation of your ideas while covering all the essential manufacturing phases. Adenio believes in excellence while prosecuting their client's project.
The site is located in the heart of France, favorably supported by any transportation network. It provides you with a unique reactivity on all your production lines within the shortest deadlines using advanced technology, serving nationally and internationally. 
Products:
Silk scarves, foulard, and stoles

High-end ladies luxury clothing

Tableware

Bathing suits

Sports apparel
Services
:
Placement and material optimization

Computer-aided modeling

Pattern printing

Design and Prototyping

High-end traditional confection 
Location
:
Bâtiment TERRA DITTA – C5 – Zone de Sacuny
287, rue Barthélémy Thimonnier
69530 BRIGNAIS – FRANCE
Click here to checkout their website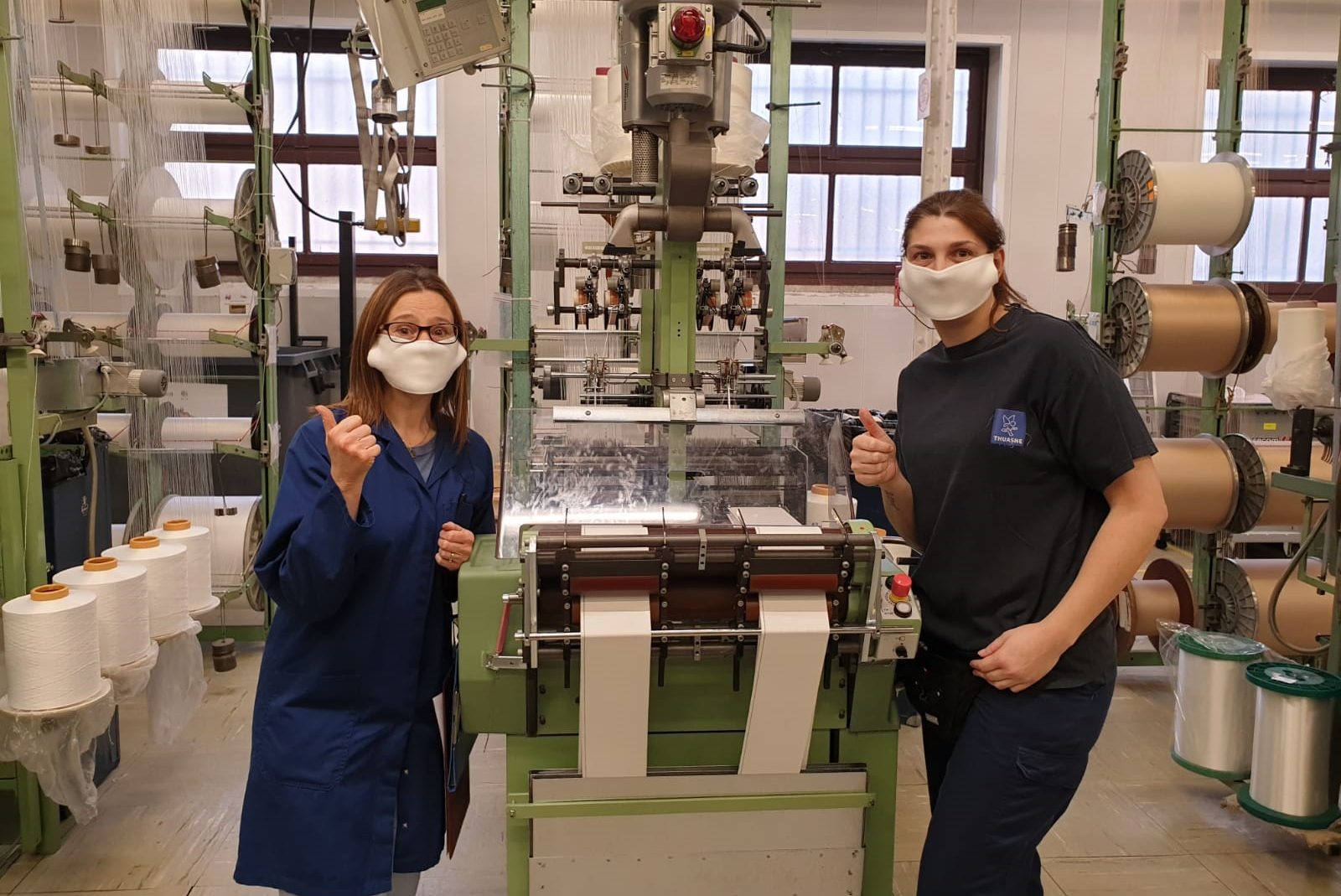 2. LG Couture France: 
LG couture was established in 1981 in the heart of Western France, 'a fashion-inclined region' known for its dynamic economy. Initially, they divided the merchandise into two segments since 2008. Later, they amalgamated the two into one sourcing site to enhance their service quality. 
LG Couture clothing has emerged from an industrial concern to a proficient craftsman over 35 years of excellence, tailoring high-end fashion garments and ladies' luxury wear. The mission of LG couture is to offer premium clients satisfaction and fulfill the expectation of luxury labels while bringing their master tailor expertise and textile subcontractor into action to amuse their customers.
LG couture is a key partner to France's most esteemed fashion houses and produces modified apparel incorporating French-made quality with an attractive price tag. The company's strength lies in the mastery of demanding seamstress that yields the leading fashion brands trust LG couture.
Products
:
Jackets

Trousers

Skirts

Coats

Dresses
Services
:
Modern production facility

Staff training services

Ongoing investment policy for machinery improvisation
Location
:
LG Couture 4 rue Joseph Monnier 85220 Coëx (FRANCE)
Click here to checkout their website
3. SVS Moda IVS
Viken Samuel launched his clothing brand in Iceland and has been a dedicated women's fashion clothing manufacture since 1998. VSMODA is a direct manufacturer and designer of ready-to-wear men and women chic, elegant, and trendy clothing.
The company continued to flourish on the principles of smooth and cozy fashion clothing in the most accessible price range and opened three stores. As a result, the brands and boutiques clear up their shelves to make space for VS Moda clothing items.
The whole collection integrates vibrant colors, striking patterns, and eye-catching designs. They are always ready to deliver an innovative product range to lead the fashion industry. The clothing collection is now seen across France, Europe, as well as reaching all the corners of the world. VS Moda is a confident and responsible clothing manufacturer ensuring quality inspection and incomparable production management.
Products:
Lingerie
Leggings
Winter and summer collection
Men Beachwear
Services:
Secure payment
Return policy
Shipping services
Location:
VSMODA 9 Rue Sully 26000 Valence France
Click here to checkout their website
4. Maje Paris:
Maje Paris aims at producing sustainable and eco-friendly clothing for women's wardrobes. It believes that fashion designers and cloth manufacturers should be responsible for reducing maximum environmental impact by the clothes they design. 
The major goal of Maje Paris is to make improvements in several areas, including natural and organic fabric, manufacturing conditions incorporating less pollution, zero waste design, reduction of carbon footprint, elimination of toxic products, and long-lasting items.
Recently, Maje Paris has paired up with some of the leading brands like Absolution, 24bottles, Jump, and Vestiaire Collective, combining fashion and commitment. The collaboration helps them rethink their habits while manufacturing and designing clothes.
Products
:
Pants and jeans

Tops and skirts

Jumpsuits and rompers

Co-ord sets

Coats and jackets

Sweaters and cardigans
Services
:
Free standard shipping for every purchase

Easy returns within 30 days for every order

In-store exchanges and returns services

Secure payment
Location
:
Maje BHV Marais 55 Rue De La Verrerie – 75004 PARIS France
Click here to checkout their website
5. Eric Bompard SA:
Eric Bompard is a symbol of elegance and has been manufacturing high-quality wool clothing since 1984, located in France. The company offers bold, authentic, and poetic prints and textures in its photos, exhibiting the elegance of cashmere in its true essence. 
The Poetic Escape Collection is inspired by two natural phenomenon-the stars and zigzags. The whole collection comprises delicate texture and flawless finishes. Eric Bompard Company offers an extensive wool collection integrating the best fibers from the coat of the Capra Hisca, obtained from a goat that originates from the Gobi desert.
Products
:
Women ponchos

Hoodies, cardigans, and jackets

Men Polos, jackets, sweaters

Stoles and scarves

Knitwear and sportswear
Services
:
Free delivery 

Easy return services

Privacy policy
Location
:
225 Rue du Dr Paccard, 74400 Chamonix-Mont-Blanc, France
Click here to checkout their website
Checkout our article on the List of Clothing Manufacturers in Europe