Good shoes take you to good places. Yeah, that sounds meaningful and relatable to everyone. Almost half of our lives are spent on shoes, and one has to be very selective while buying a pair of shoes. It's not that easy to go to the market, select a pair by watching how they look, buy them and go back home.
In fact, opting for a perfect pair of shoes depends on various factors, including its design, ideal fitting, appropriate size, and the high-quality material used in its upper, outside, and lining. A perfect pair of shoes fulfill the requirements of all three dimensions of comfort, including length, width, and size.
Italy has a long-term history of expertise and craftsmanship in producing leather goods. Even in a small town in Italy, the bespoke shoemaker owns a very distinct taste in making footwear. It is the skill that stands them apart from American or British in the list of shoe manufacturing companies.
Are you starting your own brand and don't know where to find the best manufacturers? well, we have compiled a list of the Top 10 sourcing companies. Read our post on the Top Apparel and Garment Sourcing Companies.
List of Shoe Manufacturers  Italy
The list of Italian shoe brands is given below that offers an insight into making life easier in deciding where to find stylish, trendy, and comfortable shoes.
Manufacturers

Address

Moreschi

Corso Venezia 5 Milan Downtown 20121 Italy

Meccariello

Airola, Benevento

GUCCI

Milano Monte Napoleone Flagship
Via Monte Napoleone 5-7
Milano 20121 Italia


BrunoMagli

BrunoMagli.com
504 Big Bear Blvd #C
Columbia, MO 65202


Oliver Sweeney

Le Marche, Italy

Riccardo Freccia Bestetti

Via Manara Negrone, 32R 2B, 27029 Vigevano Pavia, Italy

BONTONI

Bontoni Srl
Via Veregrense 82
63812 Montegranaro (FM), Italy


Valentino

Via Turati
16/18, Milan, Italy


Salvatore Ferragamo

5 Rosso Piazza Santa Trinita, Florence, Italy

Ace Marks

2401 NW 93rd Ave, Doral, FL 33172, United States
1. Moreschi
Moreschi, an Italian handmade shoe expert, was founded by Mario Moreschi. It is a family-owned shoemaker company that has been making 100% of the products in Vigevano, Italy, since 1946.
The company sticks to its high-quality shoemaking over the period of seventy years. Moreschi shoes are the emblem of 'experience with excellence, tradition, and modernity. 
The timeless style and production of the elegant Men's footwear collection embody the true spirit of the company. Moreschi's family of dress shoes offers the perfect harmony for any suit, formal wear, or bright casual look. The company is long-lasting with a wide variety of colors and designs. 
Moreschi is a brand that sells men's & women's shoes and bags along with certain accessories. Each type of manufacturing is used in the style of a particular shoe to ensure quality and sublime aging. The color of the shoe has dark edges, and it is the signature style that sets them apart from other brands.
Products:
Moreschi manufactures a wide range of men footwear:
Oxfords

Loafers

Slippers

Sneakers

Drivers

Sandals

Slip-on

Boots

Monk strap
Women footwear collection includes
Loafers 

Drivers 

Boots 

Sneaker 
Contact:
+39 0381 69881
Location:
Corso Venezia 5 Milan Downtown 20121 Italy
Click here to checkout their website
2. Meccariello
Antonio Meccariello is the founder of this small shoemaking company. Two years after starting a particular design brand with Ciro Paina and Antonio de Matteis, Antonio Meccthe Ariello began as a bespoke shoemaker. The clients can get any toe shape made-on-order they would want to wear.
 The company has access to various striking leathers made from the skin of lizards, crocodile/alligator, kudu, shark, mountain ram, etc.
The process of shoemaking is entirely client-satisfaction-oriented. First of all, the meeting is held in which the clients' footwear history and the requirements are discussed. Then a sketch is made along with the type of leather they want to make the shoe in, and the shape of the toe is decided.
After the construction, the client wears it, and then the company gives a fully finished look to the shoes as they desire.
Products:
There are four types of shoes that this brand offers. 
Aurum shoes are shiny in shape and sewing, so it takes time to make. They have more fine cuts and fit the waist and sole of the last. The sole is barely visible from the top, and from the waist, the sole is tightly packed and covered.
Bespoke shoes are fully customized, allowing customers to choose what they want, from toe shape to color.
Argentum hand-welted shoes are made using traditional shoe methods.
Aeris line shoes are manufactured using the Classic Good followed by the Welt system.
Services:
Personalization

Shoe test service

Modification according to client's measurement

Fitting

Adjusting the instep

Adding arch support
Location:
Airola, Benevento
Email:
meccariellocustomerservice@gmail.com
Click here to checkout their website 
3. GUCCI
Gucci is an Italian clothing brand founded in 1921 by Gucci in Florence, Tuscany. Gucci is one of the best brands globally and represents the pinnacle of Italian craftsmanship.
Gucci is reinventing an entirely new approach to modern fashion as it incorporates three basic principles: influential, progressive, and innovative.
 Alessandro Michele is the new director of this overwhelming brand who has redefined luxury for the 21st century. It reinforced itself among the world's most desirable fashion houses by using premium quality leather to make shoes and other everyday goods bags, jewelry, and clothing.
The brand has all kinds of clothing, from hats to shoes, for both men and women. Their men's footwear collection has wide varieties and styles. There is something for everyone. Gucci products are unparalleled for their quality and attention to detail.
Products:
Boots

Moccasin and loafers

Sneakers

Sandals

Slippers

Driving shoes

Lace-up shoes

Slippers and mules

Ballet flats

Slides and thong sandals

Pumps

Espadrilles

Wedges
Services:
Premium free express shipping

Next business day shipping

Free and easy returns

New eco packaging
Contact:
1 877 482 2430
Location:
Milano Monte Napoleone Flagship
Via Monte Napoleone 5-7
Milano 20121 Italia
Email:
Meccariellocustomerservice@gmail.com
Click here to checkout their website
4. BrunoMagli
BrunoMagli is an Italian shoe brand that started in 1936 in a small basement in Bologna, Italy, with Bruno Magli and his brothers. It began with women's shoes, and in 1947 it built its first manufacturing plant and started producing men's shoes. Finally, in 1951 the business expanded and took the shape of a retailer.
With continuous hard work and dedication, BrunoMagli took the fashion industry by storm and transformed into a branded shoe manufacturing company. The key features of this global fashion brand are Italian quality and craftsmanship.
Now Brunomagli is producing shoes and various other women accessories, including apparel, handbags, gift cards, etc. The brand is relatively cheap, especially during the sale season, but with a complete focus on quality and materials. More than 40 retailers of this brand are present throughout the United States, Australia, Europe, and China. 
The company makes shoes in a way that they can be repaired and resold easily. Its sole is made of Italian leather and rubber. The shoe features calf leather instep and calf leather lining. They are created using the Blake Stitch style to help them last longer. 
Products:
BrunoMagli offers a wide range of shoes for women
Pumps

Heels

Boots

Mules and Slides

Sandals

Flats
The Footwear Collection for Men includes:
Casual

Sneaker

Loafers and Slip Ons

Lace-Up and Oxfords

Dress Shoes. 
Contact:
(573) 260 3898
Location:
BrunoMagli.com
504 Big Bear Blvd #C
Columbia, MO 65202
Email:
customerservice@BrunoMagli.com
Click here to checkout their website
5. Oliver Sweeney
Oliver Sweeney is an Italian brand founded by Oliver Sweeney in 1989. Oliver Sweeney always dreamt of becoming a great shoemaker, and so he did. He learned craftsmanship from the best bespoke shoemakers, and after two decades, he became one of the great maverick shoe designers of his generation.
The company works on a policy of creating something classic with a matchless modern twist from the finest material. Furthermore, the process takes place in the best shoemaking region of the world. Oliver Sweeny continues to evolve from classic designs to modern innovations of the 21st century by integrating their heritage into their progress.
The brand offers many style shoes, such as oxfords and loafers, and manufactures outstanding unique and traditional designs. 
Products:
Oxford 

Shoes

Boots

Trainers

Loafers 

Sandals and espadrilles

Slippers

Monks

Brogue boots

Chelsea

Slip-on

Derbies
Contact:
0800 622 6030
Location:
Le Marche, Italy
Email:
customerservices@oliversweeney.com
Click here to checkout their website
6. Riccardo Freccia Bestetti
Riccardo Freccia Bestetti has been making shoes in Milan, Italy, since 2010. He is famous for risking stereotyped thinking when designing his brand of shoes. Only reasonably new, the brand received a lot of attention due to its non-traditional design. Riccardo Freccia's Best shoes are of high quality, very fashionable and often suitable. 
The name pre-tooth is taken from the nickname of Ricardo Bestetti, which means "arrow." But the brand is very exclusive; it produces only 600 shoes per year. Its clients' commonly referable adjectives to this brand are noble and majestic, complete and diverse, simple and seductive.
The brand is appearing at international events in New York and Amsterdam. It believes and focuses on the demands and needs of its customers. As a result, Bestetti made to order shoes became distinctive because they could produce the praise and elegance demanded by both the client and the producing artisan himself.
Products:
Dress shoes

Sneakers

Oxford

Derby

Boots

Monk
Contact:
0381 82531
Location:
Via Manara Negrone, 32R 2B, 27029 Vigevano Pavia, Italy
Email:
frecciabestetti@frecciabestetti.com.
Click here to checkout their website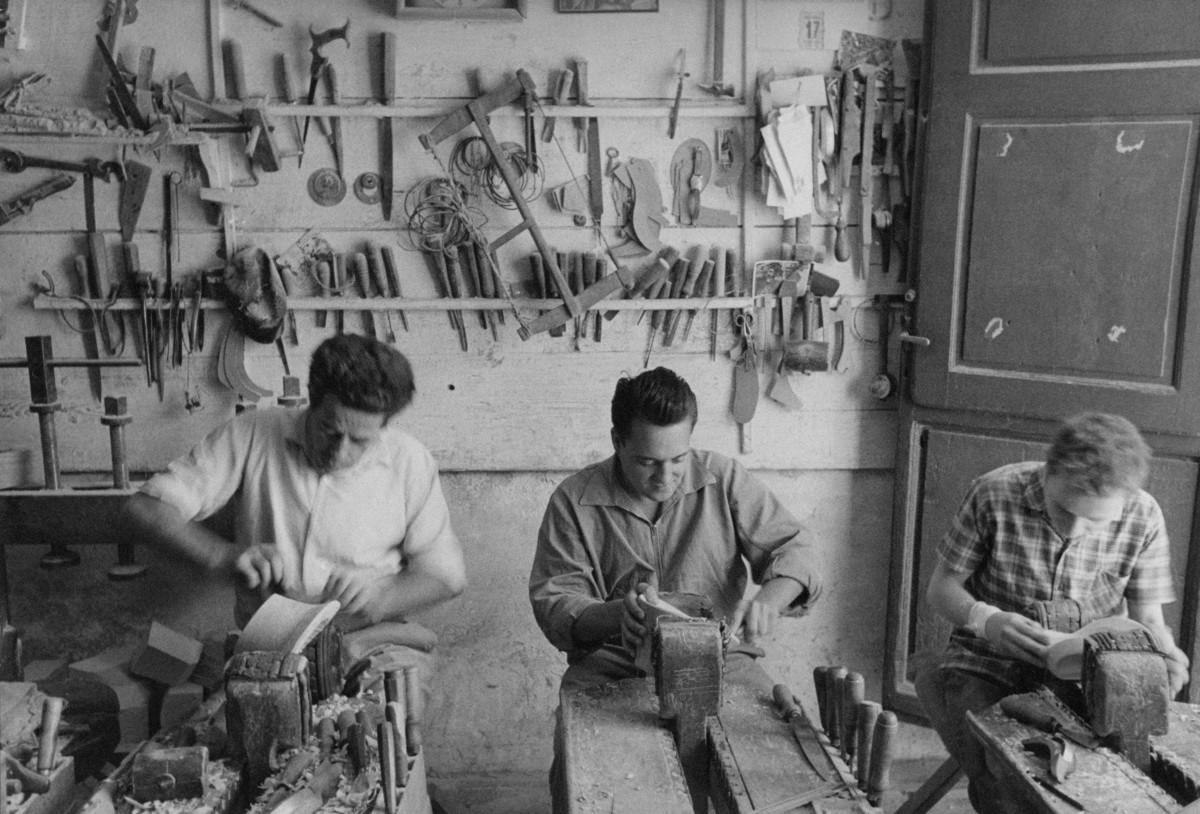 7. BONTONI
Bontoni is a third-generation family footwear company founded in 2004 by Franco Gazzani. They sell custom-made and off-the-shelf shoes. Franco Gatzzani's father and grandfather made shoes for the family, not branded until Franco Bontoni started. 
Franco branded shoes are high quality and are designed as his family has been in the shoemaking industry. The craftsmen who make shoes came from Italy's long lines of artistry and skillful traditions that are integrated into each pair of shoes. 
Therefore, it is a very exclusive luxury footwear brand. The legacy carried by the family of shoemaking is awe-inspiring, and it has grown significantly over time. It is also available at international retailers such as "Shirts and Shoes" in the Netherlands. 
Bontoni is the safest choice if you're looking to buy shoes for an upcoming wedding, but don't forget to order in advance.
Products:
The brand offers incredible collections of men's footwear. Ready-to-wear collection includes
Loafers 

Oxfords

Derby

Buckle
Made-To-Order Services:
Size

Style

Color

Material

Construction

Sole

Personalization
Contact:
39 (0) 734 466556
Location:
Bontoni Srl
Via Veregrense 82
63812 Montegranaro (FM), Italy
Email:
info@bontoni.com
mto@bontoni.com
Click here to checkout their website

8. Valentino
Valentino Garavani and Giancarlo Giammetti founded maison valentino in 1960. Valentino appeared much later than most other luxury brands, but it has taken the luxury fashion world by storm. 
Every year comes a collection of clothing that sets trends. But that alone is not enough. They also make great shoes. Famous for "Valentino pump heels," they are one of the biggest brands for high-end footwear. Surprisingly, it is also renowned for men's shoes. 
Not only do they have a massive collection of sneakers/trainers, but they also make fantastic hoodies for men. 
Products:
Valentino is producing a wide range of men's shoes:
Silhouettes

Sneakers

Sandals

Loafers

Boots
The women's footwear collection includes:
Pumps

Sandals

Ballerinas

Mules

Sneakers

Boots

Espadrilles

Wedges
Contact:
1855 967 1970 
Location:
Via Turati
16/18, Milan, Italy
Click here to checkout their website
9. Salvatore Ferragamo
Salvatore Ferragamo is an Italian luxury fashion brand that specializes in footwear, leather goods, and watches, perfume, and glasses. Salvatore Ferragamo started his own business after an internship as a shoemaker. 
The brand works on a constant modification, and continuous flow associates the present to their origins. The process is predominantly evident in the Ferragamo's Creations line that underlines numbered replicas of pieces from the historical archive, a series of products in limited editions, for men and women. 
The re-editors stick to their legacy when modelling shoes and other products in terms of material, shape, color, detailing and finishing.
Products:
Men's footwear collection includes:
Tramezza

Boots

Sneakers

Moccasins and loafers

Lace-ups

Sandals and espadrilles
Women's footwear range carries:
F-heel

Vara

Viva

Pumps

Ballet flats

Sling backs

Moccasins

Sandals and espadrilles

Sneakers and slips-on

Boots

Mules
Contact:
+39 02-36264 231
Location:
5 Rosso Piazza Santa Trinita, Florence, Italy
Email:
customercare@sf.frerragamo.com
Click here to checkout their website
10. Ace Marks
Ace Marks was founded in 2012. It is working with a fourth-generation Italian shoe manufacturing artisan to provide high-quality shoes to the worldwide market in an affordable price range. 
A closed-stitch Blake flex construction is employed for their footwear manufacturing, and the products are made from full-grain calfskin. It is then hand-dyed and polished. These are meant to keep your feet cool and dry.
Ace marks not only producing accessible shoes but the universal ones. They come up with standardized fitting.
Using modern technology, Ace Marks knows fully well how to get rid of middlemen and their mark-ups to produce a world-class and handcrafted shoe equaling the top-notch luxury brands and at reasonable prices.
Products:
Footwear collection comprises:
Wingtips

Cap toe

Monk strap

Boots

Loafers and moccasins

Derby and bluchers

Oxford

Whole cuts

Sneakers
Services:
Free shipping and returns

Hassel free exchange

Quick delivery
Contact:
786 518-2042
Location:
2401 NW 93rd Ave, Doral, FL 33172, United States
Email:
info@acemarks.com        
Click here to checkout their website
Checkout our article on the List of clothing manufacturers in Canada