Choosing the right attire for a Dubai vacation is a tricky area. You see some people wearing everything from abayas to crop tops and short skirts.
But what is the right way to go around this situation, considering that Dubai is hot nine out of twelve months a year?
Let's dive in and find out, shall we?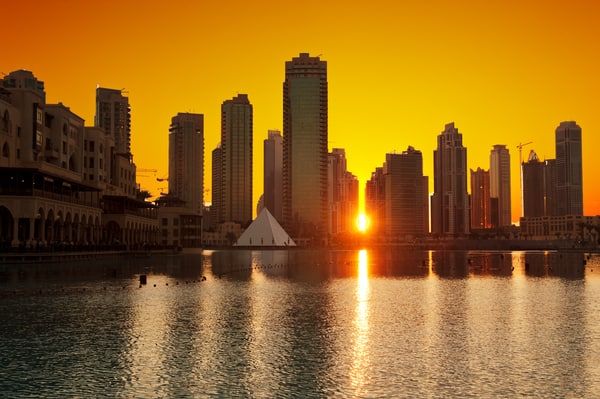 Dubai's Weather In November:
Dubai is located on the Persian Gulf Coast where the temperature stays high throughout the year.
November is considered the best month to visit Dubai as it's the end of extreme summers and the start of fall festivities.
In November, Dubai's average daytime temperature is 31°c. At nighttime, the weather becomes quite pleasant with an average temperature of 18°c.
By the end of the month, Dubai starts to cool down and the desert experience becomes quite chilly at night.
The average temperature of the sea is 28°c in November which makes it perfect to enjoy water activities and beach picnics.
The sun rises at 5:30 a.m and sets around 5:30 pm giving an average of 12 hours of sunshine a day. The cloud cover gradually increases in November with the passing days.
One thing that you must keep in mind is that despite the cloud cover, UV rays exposure in Dubai is very high.
The chances of rain in November are little to none. The maximum rain you will experience in Dubai in November is 5 millimeters. That too is expected on only one day out of thirty.
The speed of wind varies from 7 to 7.7 miles per hour during this month. The humidity also decreases in November with the passing days.
WHAT TO WEAR FOR DAYTIME ACTIVITIES IN DUBAI?
When packing clothes for Dubai, keep in mind that it is a Muslim dominant area.
The locals have become very lenient with tourists' different clothing styles, it's best to respect their sentiments.
Since the days are hot and sunny, full sleeves shirts with flowy linen trousers, cargo pants, or knee-length shorts are the best way to dress up.
If you love to take pictures, pack three or four long flowy dresses as well. Believe it or not but in Dubai, no outfit works better than a long flowy dress.
Going to a mosque or Spice Souk? Pair your dress with a light pashmina and you are good to go.
Going to lunch? Accessorize your dress with a branded bag, high heels, and sunglasses to get an Instagrammable look.
A short dress or skirt also works as long as you wear leggings underneath. They will make you appear modest and protect your legs from sun exposure.
For men, any casual t-shirt or dress shirt with knee-length shorts or pants works everywhere.
When planning a beach trip, do not worry about your attire. Everything from a sexy two-piece to a burkini is acceptable on Dubai beaches.
There are, however, some beaches where the dress code expects men to wear shirts and women to wear modest swimsuits.
You must also carry a beach coverall to wear on top of your skimpy beachwear when visiting a restaurant or any local shop.
WHAT TO WEAR FOR NIGHTTIME ACTIVITIES IN DUBAI?
Dubai becomes alive at night. The city has a lot of fancy clubs and private resorts where people party all night.
If you plan on attending those parties make sure you pack your most expensive and sexiest clothing article because some clubs do not allow entry to ordinarily dressed people.
Anything from a small mid-thigh dress to skimpy tops is acceptable. Just make sure your clothes aren't see-through.
For evening desert safari and desert sports, there's a completely different dress code. Since it's windy and riding a camel isn't particularly sophisticated, we advise you to avoid skirts.
Wear loose pants or cotton culotte with shirts that reach your bum. Any tightly fitted top that shows too much cleavage is a no-go.
In case you get cold easily, keep a light cardigan with you as the desert gets a little chilly at night.
For shoes, keep closed-toe trainers for the activities and a pair of flip-flops for desert camp.
There are lots of places to grab dinner in Dubai. If you are going to a casual restaurant, a simple top paired with shorts or pants would do.
But a trip to a sophisticated restaurant means you have to dress according to its dress code. For women an evening dress and for men a dress shirt with pants is the right attire.
OTHER THINGS YOU SHOULD PACK FOR A NOVEMBER HOLIDAY IN DUBAI?
Sunscreen: If you love your skin and want to protect it from unnecessary damage, make sure you pack a big bottle of sunscreen with a minimum SPF of 40.

Sunglasses: A good pair of sunglasses go a long way for Dubai daytime activities and desert safari.

Sunhat: Twelve hours of sunlight mean you need something to cover your face and nothing does it better than a sunhat.
It will protect you from those UV radiations and give you a chic look.
Water bottle: Dubai has pretty hot days during November. A water bottle in your backpack will keep hydrated and fresh.

Portable electric fan: On days when heat is unbearable a portable electric fan feels like a blessing. It is a must-have for hot cities like Dubai.

Deodorant: Don't forget to pack a deodorant because you will be sweating a lot when the temperature hits 31°c.
No one likes tourists with smelly underarms so make sure you put on deodorant before stepping out.
A portable phone charger and power bank.

Lastly, make sure you keep your prescription medications if you take any.
FINAL ADVICE:
Dubai is famous for its amazing malls and offers one hell of a shopping experience.
When in Dubai, you will shop a lot so try to pack only the essentials. You can always get a new dress or shirt from Dubai so don't get too excited and overpack.