San Francisco, the northern city county of California, US, holds a special place in the hearts of Americans and tourists worldwide.
The city is typically warmer than the rest of the US in the month of November, but still cool enough for you to catch the chills if you aren't prepared properly.
Packing for a trip to the city in November can get hectic if you don't know what the weather will be like.
Well, here's an overview of what the weather will be like in the month of November as well as, wardrobe essentials you'll need for your trip to San Francisco in November.
San Francisco Weather In November
San Francisco weather in November will remain mostly on the milder side of cool, where the earlier part of the month will be warmer than the latter.
The temperature will be in the higher teens during the first half of the month and drop down to 10-15°C in the second half, so you might need more layers as the month progresses.
The nights will also be cooler than the days, as the temperature drops 5°C or more than the temperature during the daytime.
The month of November is also suspected to witness a substantial amount of rain in San Francisco, so make sure you've got your waterproof essentials packed.
However, the rain will usually remain light so nothing too drastic to ruin your plans for the day ahead.
The amount of rainfall will steadily increase as the month carries on, so it wouldn't hurt to have an umbrella by your side.
Rarely, will the temperature drop to freezing 0°C, in San Francisco in the month of November, being mild enough for you to enjoy your outdoor activities in peace.
What To Wear During Your Day Time Activities In San Francisco
Since the temperatures will remain mostly mild but will be undulating over a range of temperatures, it's best to pack your San Francisco wardrobe in layers.
Lightweight jackets and hoodies will fare you well in the rainy season of San Francisco in November, so make sure you've packed enough to last you through the trip.
Neutral-colored tees, denim, sweaters, and long-sleeve shirts, will all prove useful in adding or removing layers according to the weather and situation.
It might be too chilly for you to sport a dress, skirt, or shorts in November, because the wind will be picking up pace and add to the cooling factor.
However, if you must then add a long-sleeved cardigan, or coat on top, to keep your clothes from flying away and being cold.
All those locals who joke about owning a pair of shorts that they wear all the year round will be seen wearing full-length denim with a lightweight hoodie on top.
The wardrobe in San Francisco in November is mostly kept basic by locals because it is easy to maneuver in the unexpected weather turns that come with the transition season.
You can go for trendier pieces as the weather is somewhat mild. However, having a basic wardrobe will save you all the burden that comes with loads of trendy clothing.
There will be a lot of fun events for you to enjoy in San Francisco in November. Some may require more effort than others even during days, so go for smart casual attire.
Denim jackets help you best in achieving this look, where a dark wash denim jacket would be your best bet.
Pair it with a polo or a long sleeve shirt, chinos, and slacks or boat shoes for indoor daytime events.
You can also opt for a light blazer if you're going for a more formal look.
What To Wear During Your Night Time Activities In San Francisco
The city is even more alive at night where there's so much to enjoy and do, so make sure you've packed some fun into your November wardrobe in San Francisco.
There will be many musical concerts and thanksgiving activities for you to participate in, all the more reason to keep your San Francisco wardrobe cool and fun.
A leather jacket, your favorite band tees or simple graphic tees, jeans and boots will fare you well in musical events like these.
Add to the outfit your chunky jewelry to complete the edgy vibe.
You can also incorporate festive elements into your San Francisco wardrobe, to get into Thanksgiving spirits.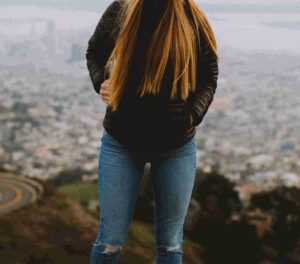 Cocktail attire would be perfect for formal or semi-formal activities in San Francisco, like hanging out at a high-end club or five-star restaurant.
Pack a full-sleeve dress or two in fall colors and don't forget to pair it with leggings and stilettos to kill your nighttime look.
You can also wear outfits such as these for a more chic and feminine vibe.
Jumpsuits are also completely acceptable in women's cocktail attire, which can be worn with blazers for a more upscale look.
Suits in San Francisco won't be necessary but you can always bring one you'd like
Dark wash jeans, full sleeve shirts, and classy footwear will be enough for your classic night time look in San Francisco.
Additional Things You Should Pack For Your Trip To San Francisco
Moisturizer

Scarves

Hoodies

Charger

Camera

Umbrella

Raincoat

Make up

Wristwatch
Final Advice
The dress code in San Francisco for November is pretty easy going where there's no fashion police roaming around judging you for your outfit choices.
Casual everyday denim and hoodies, will be perfectly acceptable for roaming around the streets of the city or even high end restaurants.
So keep your San Francisco wardrobe for November basic and comfy, to enjoy your trip to the fullest.