New York is a city in the United States and consists of five boroughs. Manhattan, a heavily populated borough, is at its core.
New York is amongst the world's major commercial, financial, and cultural centers.
It's also home to iconic sites like the Empire State Building, Times Square, the Statue of Liberty, and the huge central park.
The city of New York is known for its amazing architecture and infrastructure, which include unbelievable skyscrapers.
The best time to visit New York is considered to fall and spring. This is because of the pleasant temperatures during this time of the year.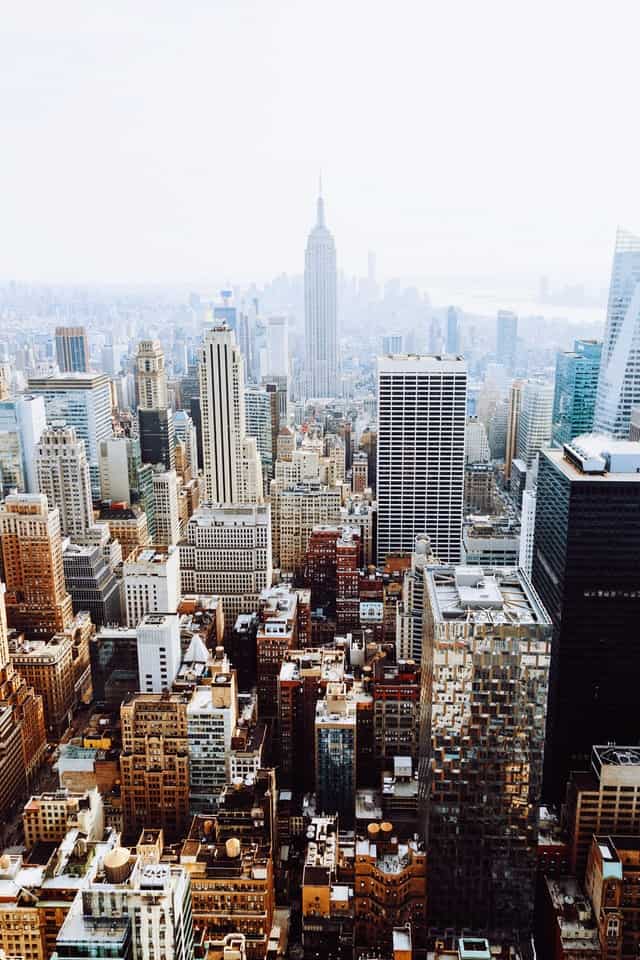 However, January can also be one of the great months to visit this beautiful city. This is because it's the cheapest month to travel to New York.
The cost of the flights as well as the hotels are the lowest during this time of the year.
Regardless of where you're going, the biggest concern while planning a vacation is related to the way one should dress.
If you are planning a trip to New York but don't have an idea about which outfits to keep, then you've come to the right place.
In this article, I'll be discussing the ways one should dress when visiting New York in January. We will also be taking a look at the weather situation in the city during this time of the year.
So let's get right to it!
New York's Weather in January
As New York sits on the east coast of the United States, it has a continental climate and therefore, you will experience cold weather during January.
There's a high possibility that you may come across freezing temperatures as well as snow during this time of the year.
As harsh as the cold sounds, it also is really beautiful, especially when the central park is draped with snow.
If you are someone who doesn't mind the cold, then January is actually a great time to visit this city.
However, you'll have to be prepared and bring with you a lot of warm clothes.
On average, the highest temperature it goes to in January is 6°C during the day. Whereas, it drops to an average of -4°C at night.
You may count this as an advantage of visiting New York in January, but the humidity is at an all-time low during this time of the year.
Moreover, January is a month in which it rains for over 10 days in New York. Therefore, there's a high chance that you may experience rainy weather on any given day during your trip in January.
Although January is regarded as the coldest month of the year in New York, there are still a lot of sunny days which you may experience during your trip.
So don't be disheartened about the cold ruining your trip, as it might just make it better!
What to wear for daytime activities in New York?
There's a lot one can do in New York during their trip. From visiting the iconic landmarks to partying in clubs, New York has it all.
However, one should keep in mind that New York is also a very fashion forward city and everyone here likes to stay in style.
Therefore, you'll have to up your game when packing outfits for your trip to New York.
During the day, one could go on bus tours and visit amazing and picturesque places, like the Empire State Building, Madame Tussauds, and even central park.
You could also visit the museums, like the American Museum of Natural History and the 9/11 Memorial Museum.
For places like these, I'd suggest wearing a thick pair of blue jeans, because it'll be cold, along with solid colored shirts or button downs.
Plus, New York is a beautiful, colorful, and vibrant place. You can also opt for neutral colored outfits or monochromatic outfits that will blend in quite nicely with the lovely backgrounds.
Apart from these, it is necessary that you keep layers as it's going to be extremely cold, even during the day.
Wearing leather jackets or denim jackets may also go well with your outfits as well as keep you warm in the cold.
You can also keep a long brown coat, which will not only be chic but also practical for the cold.
Additionally, you must not forget to keep a good pair of walking shoes, as there's barely any place you'll visit in a car and you'll be doing a lot of walking here.
What to wear for nighttime activities in New York?
The city of New York is known for having one of the most amazing nightlife. You could either go for a fancy dinner or a night full of clubbing, the options are endless!
For the nights, one may want to dress up in their more fancy attires. For instance, ribbed dresses or velvet dresses.
Along with that, you may also keep a pair of knee high boots which will look amazing and will complete your nighttime looks!
However, you must keep long coats or even puffer jackets with all your outfits as it'll be freezing cold during the night in New York.
Moreover, there's a possibility of rain on any given day, which is why it is necessary that you carry an umbrella to help you stay prepared for the rain.
If you plan on exploring the city during the night, then you'll need a big, warm coat, hat, as well as gloves.
You may also wear a lot of chunky jewelry to amp up your outfits and make them look dressier for the nights.
Additional things you should keep for your trip to New York in January:
Here's a list of a few essentials you must pack for your trip to New York in January:
Long sleeved shirts and T-shirts

Denim jacket/leather jacket

Leggings/thermal (Wear as inner-wear to help stay warm)

Sweater dresses/ribbed dresses

Boots/sneakers

Accessories (glasses, bags, jewelry)

Thick pair of jeans

Scarves/shawl
As it's going to be cold, it's important that you carry layers, which will help you stay warm during your trip.
Also, these are just a few suggestions and you may wear whatever you feel comfortable in as that is the top priority.
I hope this article helped answer your queries regarding the way one should dress in New York in January!