The fall weather is here and you are probably planning a trip out of the city, town, or country for a much-needed break.
Let me tell you, New Orleans is the best place to visit during the month of November due to a couple of reasons.
First of all, the city is cool and modern with a lot of places to enjoy.
Second of all, the weather is absolutely amazing. Not too hot or cold, just enough to make your trip one of the most memorable you've had in a while.
However, mixed weather leaning towards the cooler side, means you'll have a harder time deciding what to pack.
Take heed of the advice given below, to ease your tension and make packing all the more fun!
New Orleans Weather In November
The weather in New Orleans during November is nothing drastically cold. However, the temperatures are definitely low enough to opt for a cardigan or hoodie on top, to keep you from shivering in the cold.
The fall weather in New Orleans definitely provides a much needed break from the humid weather all year round. It gives you the opportunity to explore the city without sweating to death.
The days mostly remain cloudy with a small chance of precipitation, where the temperatures typically stay low during mornings and gradually rise throughout the day.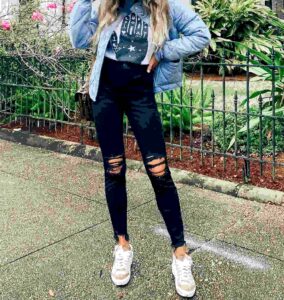 The average temperature of New Orleans afternoons remain close to 24-25°C. It may drop to a 14-15°C towards night and early mornings.
Some afternoons temperatures might even hit close to a thirty, which is why it is so important to keep your wardrobe mainly basic because the temperatures are constantly shifting.
However, the temperatures remain fairly mild, so there's not much to worry about on your trip to New Orleans.
What To Wear During Daytime Activities In New Orleans
The temperature in New Orleans will remain fairly mild, nothing too drastically cold.
Packing your winter clothes will prove to be more of an extra burden on your luggage on the most part, so it would be better to ditch those.
Keep your coats and fleece at bay, and opt for light cardigans and hoodies instead. It would do you best to keep your wardrobe basic and versatile so that you are able to adapt it to any situation and enjoy the city to the fullest.
Pack a few denim based items, including full length jeans (ripped are the best option) and denim jackets to really capture the New Orleans vibe to throw on whenever you feel a bit chilly.
Like I said, the mild weather allows a lot of room to experiment on your wardrobe so you don't need to confine it to winter wear.
Jumpsuits, midi dresses with leggings would be better but you can wear them without them, as well. Opt for flats, sneakers, water resistant comfy shoes, if your plans involve a lot of foot activity.
You can also choose lower heels, mules and platforms to add height to your frame, and make your gait more stylish. However, this would be better if you are planning on visiting indoor locations, like museums, malls and cafes.
The weather remains cloudy with a chance of rain, so better safe than sorry.
You don't have to wait for weekends to have fun, in New Orleans. The weekdays are also packed with a lot of fun activities, to enjoy, where you can go for sightseeing or have lunch or dinner at the restaurants.
Such places will most likely be cheaper during weekdays. It might seem like a good idea to have fun instead of waiting for the weekend to come around.
There are a lot of events, places and activities to enjoy in New Orleans, so make sure you pack your outfits accordingly.
You can go for trendy items but neutral basic items will prove to be more versatile and help you in the long run.
What To Wear During Your Night Time Activities In New Orleans
The nightlife if New Orleans is alive and vibrant, promising you the time of your life.
However, a fun night also asks for an equally brilliant wardrobe, so don't disappoint.
Also make sure you're not going overboard, since New Orleans fashion is fun and relaxed. Pack cocktail items, to adjust to formal and semiformal events.
Opt for midi length dresses and classic jewelry rather than trendy so that you don't disappoint yourself or the onlookers. Low heels and dressy flats will also do, but if you're feeling daring then you have the absolute freedom to dance in the tallest heels you have.
Girls, you can also opt for dressy separates or a jumpsuit for such events. However, it would be best to keep your outfit simple at bars. Wearing a leather jacket, jeans and some boots are enough to make a statement.
Dark wash jeans and polos are the best bet for guys going for a smart casual look and hanging out at bars and nightclubs.
However, you'll need something more high end for formal and semi formal events.
Concerts are regularly held at New Orleans, where you'll get to enjoy your favorite music bands and pop stars at the words and music festival.
Thanksgiving dinners are another big highlight of visiting the city in November, so make sure you've got your outfits right but also don't forget to have fun.
Additional Things You Should Pack For New Orleans
Moisturizer

Make up

Small backpack

Wristwatch

Umbrella

Jeans

Formal Dress

Suit
Conclusion
New Orleans fashion in November is mostly kept simple and fun, where there is a play of outfits between trendy and basic. You can switch up the codes according to your moods and what fits into your setting and situation.
Enjoy your trip and roam around the city, and keep tabs on the weather and the latest events happening in the city to make the most of your New Orleans trip in November.