Napa Valley is a county in California, north of San Francisco. It is quite popular for the hundreds of hillside vineyards located in the Napa Valley wine region.
The county is actually one of the world's premier wine regions and consists of more than 400 wineries.
It's extremely popular for its most prized Cabernet Sauvignon.
Napa Valley is definitely a bucket list destination one should visit if planning a trip to northern California.
The place is incredibly picturesque and aesthetic.
Many people tend to visit Napa Valley between August and October or between March and May.
This is peak tourist season and therefore a very busy time in the county.
However, visiting this beautiful place in January might not be a bad idea either. In fact, it may just be one of the greatest times for a vacation in Napa due to fewer crowds and clear, sunny days.
Regardless of where you're going, the biggest question is related to what you should wear during your trip.
So if you're planning a vacation to Napa but aren't sure about your looks, then you've come to the right place.
In this article, I'll be discussing the ways one should dress in Napa in January. We'll also take a look at the weather situation here during this time of the year.
So let's get right to it!
Napa Valley's Weather in January
January is a great time to visit the vine country as things tend to slow down and you will come across lesser crowds.
The weather is also dry and sunny for longer periods of time and you may only expect some rain during this time of the year.
The mornings can be a bit chilly in Napa as it's a little windy during this time. The day starts in the lower mid 40 degrees Fahrenheit, but it warms up and goes higher to 50-60 degrees Fahrenheit (14 degrees Celsius).
As the sun starts to set, the weather will start becoming cool again and the temperatures fall down ranging from lower 50°F to upper 40°F (4 degree Celsius).
Throughout the night the temperatures will fall even more to around 30°F, but it rarely ever exceeds this number.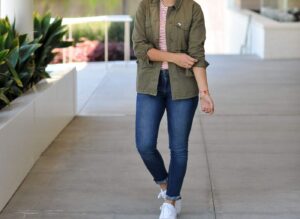 January is also quite a rainy month in Napa Valley and the county receives more than 5 inches of rain during this time.
However, there aren't any thunderstorms but the rain is typically light. Although, it can last for hours or even the entire day.
Many people tend to get irritated by the rain, but for some reason, it's extremely peaceful to experience rain in Napa Valley.
As January is a low season for Napa Valley, you will be able to find a lot of space openings in tasting rooms and wouldn't have to go through waiting in long lines of reservations at top restaurants as well.
What to wear for daytime activities in Napa Valley?
Napa valley is quite a beautiful place to be in January and one would want to look their best in front of the incredible backgrounds that the county has to offer.
One thing to remember is that Napa Valley is quite an adventurous place to be. Therefore, during the day you may want to take a hike, play golf, ride a bike, or paddle through the river.
All these activities require you to be dressed in comfortable and appropriate clothes.
Therefore, I'd suggest keeping athletic wear like tights and cute T-shirts with denim jackets for the day.
However, if you don't want to wear something that casual, then you may even wear a thick pair of jeans with layered button-downs and a tank top. This would give a more dressed-up but still comfortable look!
Moreover, you may even want to fly in a hot air balloon or explore Di Rosa Center for contemporary art.
One thing for sure is that these places are beautiful backgrounds for the most amazing pictures.
Therefore, it would be great if you could either wear vibrant coloured outfits or even monochromatic ones.
Most importantly, all of the activities that you may want to do in Napa Valley would require you to do a lot of walking.
For this reason, you should keep a good pair of walking shoes that are not only comfortable but also durable. A pair of white sneakers should do!
What to wear for nighttime activities in Napa Valley?
Now, remember that the nights can be a bit chilly as compared to the day in Napa Valley. Therefore, you may want to keep your thick cardigans and jackets for this time.
The nightlife in Napa Valley is known for being the most amazing one. You could go to so many wineries for a tasting or even hit up Jazz bars and clubs. But the options are almost endless!
The night time is when one wants to dress up even more. Therefore, I would suggest wearing dresses with long coats or even sweaters.
As it's going to be cold, you can always go for ribbed or velvet dresses to help keep you warm. You can pair them up with leggings for an extra layer.
If your luggage allows, you can even keep me knee-high boots that would look amazing with these dresses.
Napa Valley is known for its Michelin rated restaurants and people from all over the world visit the county for this reason.
As it's a low season during January, there's a high chance that you can get a reservation at one of these restaurants.
Therefore, you would want to look your best when visiting them. So I'd suggest going for a semiformal to a formal look when going for a nice dinner to such restaurants.
If you're not up for wearing a dress, then you may even wear jeans but pair them up with a little bit fancier shirt or T-shirt.
Additional things you should pack for your trip to Napa in January:
Here's a list of a few essentials that you should pack for your trip:
Button downs or formal shirts

Denim jacket/leather jacket

Leggings

Cardigans/sweaters/coats

Walking shoes

Ribbed/velvet dresses

Umbrella (It's definitely going to rain!)

Accessories (Jewelry, belts, sunglasses, hats)
I hope this article helped answer your query regarding the way one should dress in Napa Valley in January!