Iceland, the land of scenic beauty, green valleys and mountains, and the soft rushing of the river on the hillside is waiting to embrace you in the month of October.
One might think summer vacations are the only time of the year, in which you can visit the country in peace.
However, you might be very well mistaken my friend.
These transition months also give you the best experience to enjoy your tourist activities in peace and have a great time at the country's hotspot.
In October, the summer heat is slowly fading away into winter cold, but the journey isn't quite complete yet.
It might get tricky for you to decide what to pack since you don't know what to expect from the weather.
However, there's no need to fret, because we've got you all covered.
If you want to know what to include in your packing list for Iceland in October, then dive right in!
Iceland Weather In October
The weather will be leaning towards the cooler side in October, no jokes on that. You might even experience a negative during the month.
The month is also considered among some of the wettest months in the country, with 14 days of rainfall on an average. You can expect it to rain, even with the slightest chances, so you might want to be on the lookout for that.
However, it won't rain cats and dogs, instead a light drizzle on day to day experiences.
There will also be a good amount of sunny hours, about 8-9 on an average and the temperature might even hit up to 15°C on certain afternoons. The sky will remain clear enough for you to witness northern lights during the night.
However, you'll have to keep a close watch on the weather to decide whether it's a good night to witness the northern lights up north.
Better yet take help from the local tour travellers, since they'll have experience and professional help to back them up with.
The temperature will be getting lower as the day transitions from day to night, with an average low of 2°C and high of 7°C during the day. It might also hit low teen temperatures between the 10-15°C range, so you'll be in for a constant high and low ride.
The temperatures will also get lower towards the end, for the month. You might even have the chance to witness snowfall in some regions, making it all the more important to pack according to the weather.
What To Wear During Your Day Time Activities In October
There are a lot of fun activities to enjoy during daytime in Iceland, so you might want to be prepared for them.
These include hiking and mountain climbing for which you will need active wear and shoes with sturdy grip to help you in the mountains.
Since the temperature will be undulating in the lower range, mostly below 10°C, it would do you good to pack thick winter clothes in order to keep the cold at bay.
Coats, winter jackets, waxed jackets, waterproof jackets with lamina are all welcome in Iceland, October season. Opt for fleece lined, full length trousers to keep your legs warm and cozy as you explore the wonderful country.
Make sure to pack a lot of layers to help you last through your trip in October. These include denim, neutral colored tees, sweaters, and sweatshirts so that you can adjust them through the ever changing weathers.
Waterproof high boots will also be a helpful friend, where it rains on average for half a month in October, in the country.
Make sure to stay moisturized, and pack all the right accessories. These include gloves, and scarves to liven up your basic wardrobe and keep you warm and comfortable through the cool weather of October in Iceland.
What To Wear During Your Night Time Activities In Iceland
October provides the perfect opportunity to witness the northern lights. If you're planning outdoor activities for night time in Iceland then your evening attire will not be too different from your day time outfit.
However, the colder weather should not stop you from having fun with your wardrobe at night.
Try to opt for darker colors during the night, like dark wash jeans and coats. Leather will also be a good option, where it will provide your look the night time edge you're looking for.
They can prove to be quite versatile where you can opt for turtle neck sweaters, or layer up your shirt from underneath, for a perfect night time look in October, Iceland.
There are also many indoor nighttime activities for you to enjoy in Iceland, so it wouldn't hurt for you to have a dress or two packed for your October wardrobe in Iceland.
But don't forget to pair your dress with leggings and appropriate shoes, and throw on a coat and scarf whenever you're heading outside.
Try looking for dresses with sleeves and in thicker materials like velvet, to keep the fall/winter vibe going.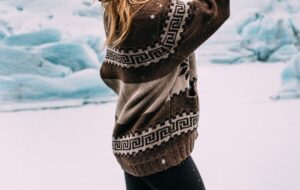 For men, dark wash jeans or chinos and turtleneck sweaters in dark rich colors, with a blazer on top will prove to be the perfect cocktail attire for men.
You can opt for classy trench coats and upper wear for nighttime activities in Iceland, October.
Adventurous activities during nighttime will require a more classic winter approach. We're talking coats and sweaters layered on top of the other, where a turtle neck will prove to be helpful in covering up the layers.
Pair them with jeans, add a legging underneath, or go for fleece lined trousers altogether.
Don't forget your accessories to go with your outfit, which includes warm headwear, mittens and scarves to keep you warm as you enjoy the northern lights in the Iceland night sky of October.
Additional Things You Should Pack For Your Trip To Iceland
Scarves

Waterproof winter jacket

Socks

Mittens

Earmuffs

warm head wear

Moisturizer

Makeup

Boots
Final Advice
Your October trip to Iceland will provide you the perfect opportunity to explore the country's hotspot in peace. The weather will be on the cooler side as is the norm in Iceland weather due to climatic regions.
When packing for your trip to Iceland in October, try to stick to basics rather than trendy clothing items. This will save you the burden on your luggage that will just prove to be futile in the cold fall weather.
Winter clothes, waterproof items and active wear will prove to be much practical in Iceland in October, and will help you enjoy your trip to the fullest.