Dubai is a diverse city. You would find people of different backgrounds on the streets of Dubai.
This also means that the dress of people in Dubai is very diverse.
You will find people wearing a thobe, hijab, abaya, jeans and t-shirt, business attire, and even traditional clothes of different countries.
Another reason for the diversity of clothes is the weather in Dubai, which is very hot so people don't have to wear too many layers.
They can wear whatever they want to wear or the outfits that are comfortable for them.
Dubai is a city in UAE and lies within the Arabian Desert, which is the main reason for the hot temperature of Dubai.
The winter season in Dubai lasts from the end of October to the beginning of April. December and January are the coldest months in Dubai.
However, these months are not as cold as winters in other parts of the world. So people don't have to wear too many layers.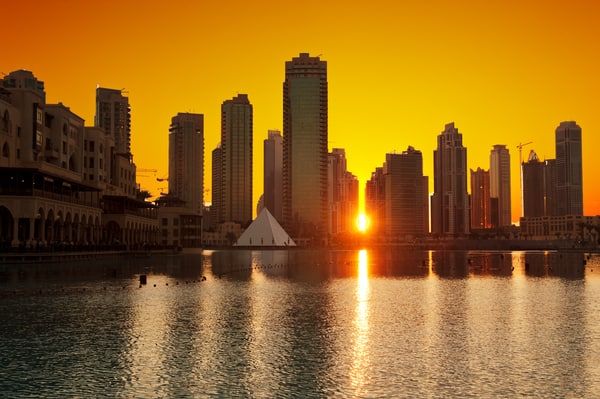 Dubai is home to many skyscrapers.
The tallest building in the world i.e. Burj Al Khalifa is located in Dubai. Dubai mall is also one of the world's largest shopping malls.
There are dozens of places that you can visit in Dubai and each place can have its vibe so dressing according to the weather and the vibe of a place is very important.
Dubai's Weather in December
Dubai is known for its hot weather due to its location in the Arabian desert.
However, December is one of the coldest months in Dubai when the temperature can go below 20°C. The daily average temperature of Dubai stays between 15°C and 26°C throughout December.
The daytime temperature is high but the temperature drops rapidly during the nighttime, it can drop to 15°C.
Since December is the start of the winter season, the temperature starts to go down as December comes to the end.
Dubai is unfortunate when it comes to rain. It usually doesn't rain in Dubai but it may rain a few times in the winter season.
But in December the chances of rain are slim, but you should be prepared as it can rain for one or two days in Dubai.
Snow is non-existent in Dubai. As Dubai is located in the Arabian Desert so it doesn't snow in Dubai.
During the winter season when people of different countries are stuck in the snow, residents of Dubai enjoy its mild weather.
December is one of the best times to visit Dubai as the weather is neither too hot nor too cold. Also, it doesn't snow or rain this month, you can easily go out and explore the outdoor activities that Dubai has to offer.
Even though December marks the start of the winter season, Dubai's weather stays mild in December as compared to other countries where temperatures may go below 0°C.
So if you're living in an area where you can't even go out because of the heavy snowfall, then visiting Dubai in December can be a good option.
Since December is not too cold so you wouldn't have to add too many layers of clothes.
What to Wear For Daytime Activities in Dubai
Since December is one of the best months to visit Dubai, several events take place during this month and more events mean more chances to wear beautiful outfits.
First of all, you have to visit the tallest building in the world. If money is not the problem, you can go to the top of Burj Khalifa to enjoy the breathtaking view.
Take beautiful pictures with the view of Dubai. Wear a top and jeans, a casual dress, or a long skirt to take pictures that are worthy of your Instagram profile.
Dubai Mall is never ending, you'll never be able to find enough to explore it thoroughly. So wear casual and comfortable clothes and most importantly wear comfortable shoes to go to the Dubai Mall.
Dubai Mall is not only a place to shop but also has different activities such as cinemas, play areas, ice skating, etc.
Since it's the holiday season many brands have sales going on, so you can get products from your favorite brands at discounts.
Dubai aquarium is also a place where you have to visit. You can wear a casual dress or comfortable clothing on your visit to this underground aquarium.
For adventurous people, they can experience skydiving in Dubai. While going skydiving, don't wear loose clothes or a dress.
You should wear athletic wear to be more comfortable while experiencing one of the most memorable experiences of your life.
The temperature of the water is normal in Dubai during December so you can participate in water sports.
You can also go to the beach if the weather is sunny. Don't forget to use sunscreen for outdoor activities.
While going for lunch at a restaurant, wear comfortable clothing. But if you're planning to have your meal at a fancy restaurant then wear an elegant top or a dress.
What to Wear For Nighttime Activities in Dubai
The experience of Dubai does not end in the daytime, but there are a lot of activities for night owls as well.
Since the season in Dubai is very hot, it gets a bit chilly in December. You might need to wear a light jacket or cardigan while going out during December.
You can watch the dancing fountains in the evening. Dubai water fountain is the largest performing fountain in the world so wear your best comfortable clothes so that you can also take your pictures.
Since New year is around the corner at this time of the month, you can go to Burj Khalifa to watch splendid fireworks. Wear comfortable clothes since this place is very crowded on new year's eve.
For going to parties, wear a fancy dress and dainty jewelry. Pair it with a pair of heels. Since the weather is not too chilly in Dubai in December.
Although there is no restriction on wearing shorts, it is more appropriate to wear clothes that cover your knees and shoulders.
You can participate in different outdoor activities and can try cuisines from different restaurants.
Other Things to Pack For Your Trip to Dubai
Make a list of places you want to visit in Dubai, then pack your clothes accordingly. Make sure to pack a jacket and a cardigan because the temperature drops at night so it can be chilly.
Other than that, here are some items you might need on your trip to Dubai in December.
Travel adapter

Chargers

Earphone

Camera

Toiletries

Sunscreen

Water bottle

Sunglasses
Final Words
Most countries can't be visited in December due to heavy snowfall or extreme cold. However, Dubai has mild weather in December.
Because of this, you can visit different places in Dubai and can participate in various activities by wearing your favorite outfits.
Different places can have different dress codes so wear your outfits accordingly. For example, it is considered more appropriate to not wear shorts in public other than the beach.
You can wear loose and comfortable clothes during the day due to the mild temperature. However, during the nighttime, you'll have to wear a jacket or a cardigan for going outside.