The city of Barcelona is located on Spain's northeastern coast.
It is the second-most densely populated municipality in Spain as well as the largest city in the Catalonia autonomous region.
It is one of the major metropolises on the Mediterranean Sea and is surrounded to the west by the Serra de Collserola mountain range.
It is situated on the coastline between the mouths of the rivers Llobregat and Besòs.
Barcelona is a significant cultural hub and a popular tourist destination nowadays due to its rich cultural legacy.
The architectural creations of Antoni Gaud and Lluís Domènech I Montaner, both of which have been named UNESCO World Heritage Sites, are particularly well-known.
Barcelona is a metropolis with a vast variety of unique leisure possibilities that tempt you to go there repeatedly.
Barcelona is one of the trendiest towns in Europe and is recognized for its Nouveau architecture and the Mediterranean Sea views.
It is a center for emerging styles in art, fashion, and food.
It mixes the originality of its designers and artisans with reverence and sensitivity for regional customs.
Barcelona is one of the most visited cities in the world, so it combines the elegance and slower pace of the old town with the avant-garde ambiance of more modern neighborhoods.
Barcelona's weather in November
Barcelona enjoys scorching summers and comparatively mild winters for Europe.
Although you won't be able to sunbathe in Barcelona in November, the weather is still ideal for sightseeing due to the moderate daytime temperatures and the fact that the nighttime lows do not significantly drop until the end of the month.
The tourist peak season is also gone, so finding hotels and travel discounts should be simple.
Given that November is a transitional month between seasons, there may be days with highs in the 60℉ and mid-60℉ typical monthly temperatures.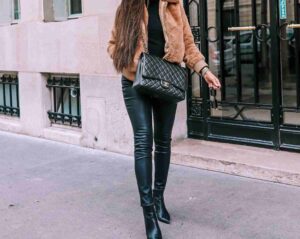 Typically, the temperature doesn't drop below 50℉ until the last day of the month and doesn't frequently reach 68℉.
Barcelona rarely experiences significant temperature changes because to its closeness to the Mediterranean Sea's mild waters.
Always keep an umbrella with you because rain is anticipated, especially in the fall.
You will still find some warm evenings early in the month for terrace meals and sunset walks around the incredibly accessible Catalan capital.
The weather in Barcelona is rather constant throughout the month. However, you'll need to pull out the sweatshirts and lightweight jackets by the time it's late November.
There will still be some warm, bright days, but nighttime lows in the 40℉ are to be expected.
What to wear for your daytime activities?
Barcelona, which is experiencing a change in season, might be challenging to pack for in November.
When the sun is out and there is no breeze, it may feel warm and moderate on certain days, but within a few hours, it may feel substantially cooler.
The best option is to bring apparel for fall. Put on layers and remove them as necessary. You may wear skirts and shorts, particularly if you go early in the month.
Additionally, locals avoid wearing vibrant colours in the fall. They like to stay with neutral hues like grey, white, brown, or black.
Be flexible while choosing what to dress in Barcelona. Layers that you can add or remove according to the weather, sunscreen, sunglasses, and an emergency umbrella are all good choices.
You should dress in a way that is both casual and fashionable when you plan to spend the day touring.
You might start your day by riding the subway and then visit popular tourist destinations, cross La Rambla, or stop by several districts.
Creating a vacation capsule wardrobe of ensembles based on timeless, fashionable, and well-tailored pieces with a high-end European edge and a dash of eclectic, spicy flair is the secret to dressing for a sophisticated city like Barcelona.
What to wear for your nighttime activities?
You've made a great decision if you're traveling to Barcelona primarily for the nightlife. There are pubs all across the city that appeal to various music and lifestyle genres.
The majority of clubs do have dress codes, so be sure to check before you leave for Barcelona and prepare appropriately.
Make sure you have a warm jacket or sweater and at least a pair of jeans.
You must don a medium-weight jacket or coat in November that is bulkier than a jean jacket. Wear tights if you're wearing a dress or skirt.
You might be visiting hip stores and cabaret bars in back alleys in the evenings.
You might also be dining in a 5-star restaurant at a luxury hotel by dinnertime.
When going out at night, especially, the stunning natives and visiting Europeans want to show off their outstanding fashion sense.
Anticipate dressing up in the night with finer clothing, jewelry, and cosmetics if you want to keep up.
Women in Barcelona always have a polished appearance, but they don't just wear neutral colours or accessories; they're also not afraid to use colourful colours or boho accessories.
Here's a concise list of essentials for both times of the day:
2-3 pairs of jeans (either blue or black)

Short sleeved tops

Long sleeved tops

Flowy dresses

Leggings

Formal attire for high-end restaurants and clubs

Cardigans and sweatshirts

Medium-weight jackets

Blazer or coat

Ankle-high boots

Sandals

Comfortable walking shoes

Sneakers or close-toed shoes

Umbrella or raincoat

Sunscreen
In every season, Barcelona is a sigh of relief. Unmistakable liveliness and style in the city keep visitors coming back.
Its appeal is largely a result of its coastal location, vibrant art and architecture scene, and top-notch dining options at cafés, bistros, pubs, and fine dining establishments.
Although most people believe that the summer is the best time to visit a city with beaches, you won't be let down by this city at any time of year.