Planning a wedding in itself can be a stressful situation, let alone worrying about dress alterations!
First, the bride has to find the perfect dress for the occasion- something which will dazzle the guests and make the groom fall in love with her all over again.
Then come the alterations. The bride must try the dress on and see what parts need to be altered to give it a smarter and more elegant look.
What is a dress fitting?
This includes an appointment with a fitter or a seamstress to get the dress altered according to your body shape.
On average, brides may need three fittings before the dress is ready to be worn.
Of course, you should consider a few things before getting it altered.
When is the latest time by which a dress can be altered?
No matter which place you're getting it altered from, get it fitted two months in advance. There will be one less thing to worry about.
The final fitting should be two weeks before the wedding- not earlier than that.
Also, to make the most of the alterations sessions, be sure to bring all the shoes and undergarments you will be wearing along with the dress to see how the dress fitting pulls off.
About BHLDN
Pronounced as 'beholden', BHLDN is a wedding shop catering to all things bridal. It specializes in wedding dresses, bridal accessories, bridesmaid dresses and wedding décor.
It is owned by Urban Outfitters and headquartered in Philadelphia, Pennsylvania.
How much does it cost to resize a wedding dress at BHLDN?
Unfortunately, BHLDN does not offer alterations. It is mentioned on their website.
BHLDN recommends working with an expert tailor who has experience in altering and designing bridal wear.
To make sure that you get the desired fit, BHLDN offers complimentary sizing assistance online.
You can also meet with their stylists at one of its store locations.
In case you are unable to do that also, BHLDN recommends getting measured by a professional tailor and using BHLDN's sizing guides for determining the best fit.
How much should bridesmaid dress alterations cost?
Dress alterations are an important part of the wedding process so be sure to account for them in your budget.
It depends on what you need to get altered in the dress. You should expect to spend anything from $45 to $150 on alterations.
This is what most of the bridesmaids spend on the alteration of their dresses.
It also depends on the salon from where you're getting the dress altered.
Some dresses just need an alteration in length and hence may not cost you a hefty bill.
Gowns which are customized or have a complicated design will be more expensive to alter.
Here is a list of potential alteration expenses.
Of course, it will vary as per dress:
Take in/out the sides of the dress: $35 to $50

Take in/out sides of bodice or skirt: $20 to $30

Hemming of the dress: $40 to $100

Adding bra cups: $20 to $30

Reshaping neckline: $40 to $60

Narrowing or reducing shoulders: $45 to $50

Shortening straps: $20 to $40

Adding belt or sash: $25 to $35

Beading work: Around $30 an hour

Bustle: $20 to $60

Steaming of the dress: Around $50
The alteration cost of the dress will also depend on how delicate the gown is. For instance, adding more laces or more details will be additional costs for you.
Pro tip
Get it all in writing.
The bridesmaid dress may already be costing you a big chunk of your budget. When you account for alterations, it is going to be an even bigger investment.
You need to make sure that you're handing the dress in good hands.
At the very first fitting and consulting session with the seamstress, discuss the exact work you want on your gown.
Whether it is shortening sleeves or inserting a new lace, get everything written in detail on a receipt.
Discuss the prices of each alteration and get those written down on the receipt too. This will minimize the risk of any mishaps.
Another tip to reduce your alteration expenses is to opt for A-line Bridesmaid dress styles.
These types of dresses are less likely to require alterations. That is because they work with most body shapes and sizes.
They are also more comfortable.
The A-line silhouette is long and lean.
It also doesn't fit tightly on the hips. This usually is the most common problem for most women.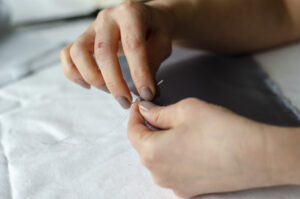 Since an A-line dress is only fitted on the bust and waist area, these are the areas whose measurements you need to worry about.
Taking measurements beforehand is helpful but what helps you, even more, is trying on the bridesmaid dress before buying.
This will ensure that you have the best fit possible and that the least number of alterations are needed.