New York City's weather can be unpredictable at times, but the weather in September is generally very nice and comfortable.
Because of the pleasant weather, you will observe a lot of tourists visiting NYC and exploring its beautiful places.
New York City is generally full of tourists during September, so if you are willing to visit NYC in September, book your tickets beforehand, and make sure you book your hotel room in advance as it is peak visitor season.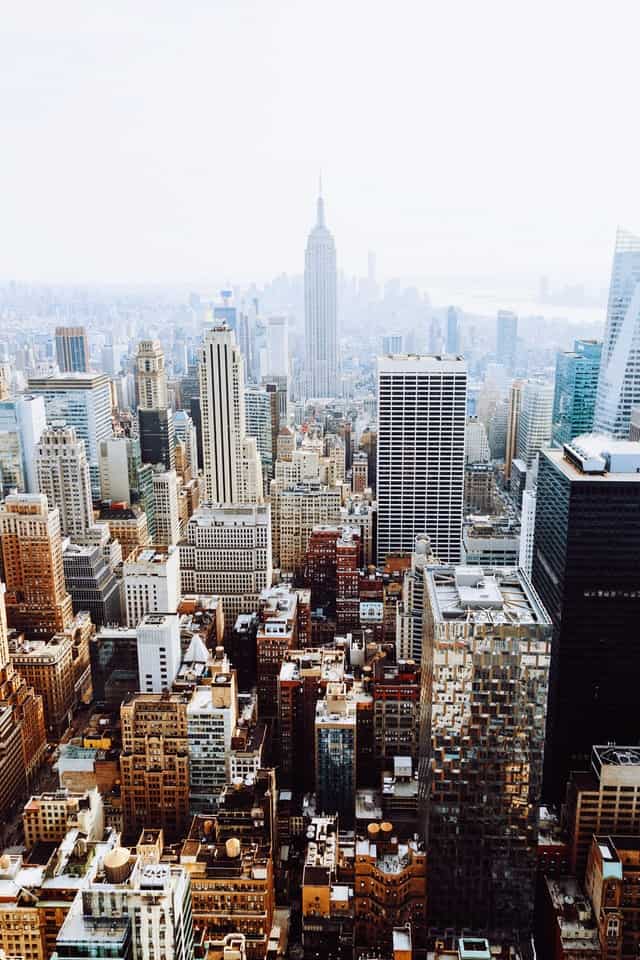 There are so many things to do and so many places to visit in September.
Tourists as well as many locals prefer visiting Central Park, as it blooms and gets much greener during this time of year, 9/11 Memorial and Museum, Statue of Liberty, Niagara Falls, Broadway shows, and much more.
A number of film festivals, annual events, book festivals, NY fashion week, and many music concerts also take place that people enjoy.
Deciding what to wear depends on the weather and the type of event you're attending.
New York's Weather In September
New York's weather is usually very pleasant and warm in September. The average temperature is 69 °F or 20.6 °C. The highest temperature is 76.1 °F or 24.5 °C and the lowest temperature is 62.2 °F or 16.8 °C.
When nights are really cold, the temperature may drop to 51 °F or 10.5 °C, and on the warmest days, the temperature may rise to 88.5 °F or 31.5 °C.
What To Wear For Daytime Activities In New York?
New York is one of the most beautiful cities in the world and it attracts millions of people from all over the world who come to see and experience the city's beautiful sights and attractive places.
The city has something for everyone, from amazing shopping malls to green parks, movie theatres, restaurants, museums, and galleries.
Packing the correct attire for such an adventurous city is essential.
Because it is a walking city, you should dress comfortably while keeping a sense of style that matches this beautiful city.
September is an excellent month to visit New York because the weather is really pleasant and comfortable, with warm days and cold evenings.
During this time of the year, average daytime temperatures vary from 20°C to 24°C.
Since New York has always been known for being at the forefront of fashion, it is important that you wear clothes that will not only look good on you but are comfortable for you too.
For women, jeans never fail to look good on them as they are versatile, durable, and stylish.
You can pair your jeans with a loose tee, a denim jacket, and a scarf.
Floral dresses are appropriate for many daytime activities and can be styled with a denim jacket and a nice pair of heels or sneakers.
For men, they can also wear jeans with tees or button-down shirts.
When days are colder, they can also wear denim or leather jackets.
Light clothes, such as shorts with loose tees are appropriate for casual daytime activities and when the weather is a little warm.
In September, a light jersey that can be put over the shoulders during the day is a nice choice too.
What To Wear For Nighttime Activities In New York?
In September, nights are usually colder and extremely pleasant. While you can wear loose clothes during the day, wearing such clothes at night is usually not a great idea.
You can wear your casual jeans and shirts with a nice jacket and sneakers. Women can wear their dresses with a nice jacket too.
They can also wear a warm scarf when nights get colder.
These outfit combinations are perfect for attending Broadway shows, music concerts, sports events, night walking tours, and viewing the city from above.
Wearing what you feel comfortable in is very important. Make sure whatever clothes you wear look good and appropriate according to the weather.
While it's possible that you'll be able to wear shorts and t-shirts in New York in early September, you'll want to dress in a little warmer clothes when the weather gets colder.
Other Things You Should Pack For a September Holiday In New York
Before planning for your trip to NYC in September, make sure you check the weather.
Every packing starts with clothes and toiletries, and to make sure you don't miss anything, we have put together a list of all the essentials you might need during your trip.
Clothes (undies, layers, extra pants, shirts, blouses, shorts, socks, sweaters, and sweatshirts)

Toiletries (toothbrush, toothpaste, perfumes, shampoo, soaps, eyewear, razors, shaving cream, makeup products, moisturiser, hair spray, medications, sanitizer, mask, and tweezers)

Raincoat and umbrella

Neck Wallet

Extra bag

Cooling Towel

Mobile phone, a changer, and a power bank

Passport, cards, maps, etc.