Are you planning a trip to Disneyland in October?
Disneyland is an exciting adventure place that entertains everyone from kids to oldies. But visiting a place for the first time can have its worries too.
For instance, you are not sure what could be suitable clothing there. So, it's essential to know what the weather will be like and what to wear.
In most cases, the weather is mild in October. However, there can be some colder days and evenings.
With the fall season in full swing, the weather can be a little unpredictable.
You can still follow some guidelines to ensure you're comfortable while enjoying the happiest place on earth. Here are a few tips for dressing for a day at Disneyland in October.
What is Disneyland's Weather Like In October?
October is a beautiful time to visit Disneyland. The weather is still sunny and mild enough to enjoy all the outdoor activities.
However, there are also fewer crowds than during the summer months. Moreover, Halloween is celebrated throughout the park during the last two weeks of the month.
The temperatures in October tend to range from the high 60s to the low 80s. Therefore, you should pack a light jacket for cool evenings.
But even during the daytime, it's a good idea to have a sweater or shawl on hand, as the "Disneyland breeze" can be chilly.
In addition, rainfall is also relatively rare in October, so you shouldn't have to worry about rain showers disrupting your fun. However, there can be occasional showers, so it's always a good idea to pack an umbrella.
Overall, October is a great month to enjoy all that Disneyland offers. So, be sure to pack for warm and cool weather, and don't forget your Halloween costume.
What To Wear For Daytime Activities In Disneyland?
When planning what to wear for your Disneyland vacation, remember a few things.
First, consider the time of year you'll be visiting. If it's during the summer, you'll want to dress for the warmer weather. For instance, lightweight, breathable fabrics are a good choice.
You'll also want to wear comfortable shoes, as you'll be doing a lot of walking.
But, if you're visiting during the cooler months, layering is essential. A light jacket or sweater can be packed in your bag and pulled out when needed.
No matter what time of year you visit, it's always a good idea to check the forecast beforehand and dress accordingly.
Another thing to remember when deciding what to wear is the type of activities you'll be doing. If you're planning on doing a lot of outdoor activities, like hiking or exploring, you'll want to dress accordingly.
Again, comfortable shoes are a must. If you're primarily going to spend your time inside rides and attractions, you can dress casually.
You may even consider wearing something that will help you stand out in photos. Whatever you decide to wear, make sure it's something you'll be comfortable in all day long.
What To Wear For Nighttime Activities In Disneyland In October?
Don't forget to pack for nighttime activities when packing for a vacation to Disneyland in October.
There is a wide range of activities that take place after the sun goes down. Especially since it's Halloween time, you should pack accordingly.
Disneyland's daytime temperatures may be warm, but the evenings can get chilly. So it's important to pack clothing that can be layered.
When it comes to nighttime activities, there's no need to be too formal. However, you'll want to dress up just a bit more than during the day.
A light jacket or sweater is a good option for women. In contrast, men may want to consider packing a collared shirt or cardigan.
In addition, jeans are always a good choice. However, if you're planning on doing a lot of walking, consider packing a pair of comfortable walking shorts.
Also, you must not forget to pack a pair of comfortable shoes. Since you'll be doing a lot of walking, your feet might get hurt. Of course, you don't want your feet to hurt at the end of the day.
A hat and scarf are also great accessories to have on hand. Of course, you'll want to ensure your outfit is complete with mouse ears!
With these suggestions, you'll have a comfortable and enjoyable vacation.
Additional Things You Should Pack For Holiday In Disneyland
So, you're all packed and ready for your trip to Disneyland! But wait – there are a few things you might not have thought to pack that can make your vacation even more magical.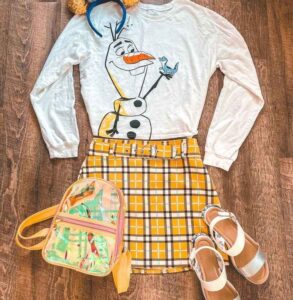 Here are a few items to add to your suitcase:
A Small Backpack Or Bag
This will come in handy for carrying souvenirs, snacks, and any other odds and ends you may accumulate during your trip.
Comfortable shoes
You'll be doing a lot of walking, so make sure you have footwear that won't give you blisters.
Rain Gear
Even if the forecast doesn't call for rain, it's always better to be prepared. A light rain jacket or umbrella can make all the difference when trying to enjoy yourself in wet weather.
A Refillable Water Bottle
You'll want to stay hydrated with all the walking you'll be doing. Save yourself some money (and hassle) by packing a reusable water bottle you can refill at water fountains around the park.
Snacks And Drinks
The lines at Disneyland can be notoriously long, so it's always a good idea to have some snacks and drinks on hand to keep your energy up.
Sunscreen
It might be cold outside, but Southern California's sun can still be pretty intense. Make sure to pack some sunscreen to prevent sunburn.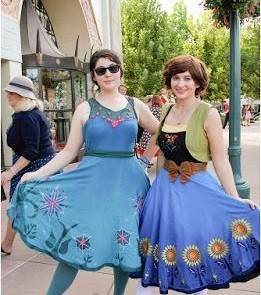 By keeping these items in mind, you can be sure to have a fun-filled, stress-free vacation at Disneyland.
Bottom Line
Disneyland is a perfect holiday spot in October that gives you a once-a-lifetime experience. However, if you're a first-time visitor, you must do your homework about what to wear there.
The suitable clothing and the right gear can enhance your fun and entertainment at Disneyland by multiple folds.