The secret to a product's quality, attractiveness, and durability is starting with the correct materials for the job.
Make the best selection for your project when deciding between nylon and polyester thread.
While both fiber nylon and fiber polyester are good materials, each has unique advantages that might influence your decision.
Outdoor applications need particular qualities to endure in all weather conditions, such as UV protection, high strength, resistance to abrasion, mildew, and frequent saltwater.
UV protection becomes less significant for interior applications, whereas resistance to abrasion and stretch becomes more crucial.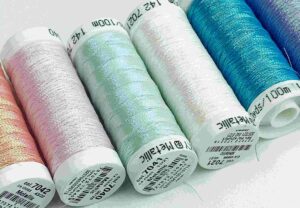 The only difference in color is between the threads and maybe their appearance.
Examining the many thread quality factors before purchasing or using thread for your upcoming project will improve your crafting.
You may choose the best type of thread for your project by carefully examining the differences between nylon and polyester thread.
When choosing the proper thread quality and type, fabric content, kind, and weight are important considerations.
A thread of poor quality will fray, break more easily, and generate more lint. Additionally, it could damage your tension disc and keep the needle from running smoothly through your sewing machine.
If your thread has any kind of fuzz on it, this means it was made with short fibers and is a weak thread.
Make a note if the thread has a unique sheen, such as silicone or non-silicone, as this may be useful for stitching at a high speed.
When choosing your thread, take into account how much stitching your project will require. Selection and availability of thread colours are influenced by fashion trends.
When selecting thread, always keep in mind the type and weight of your fabric. This is the secret to sewing your project with security.
One of the various varieties of threading that are available for use with domestic sewing machines and in commercial applications is nylon.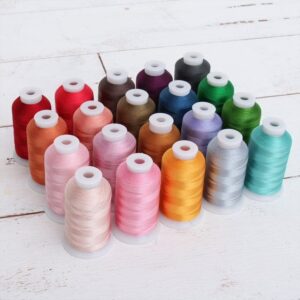 Nylon, also known as polyamide, is a synthetic material that initially gained popularity in American homes in 1940 with the introduction of nylon pantyhose.
Since then, nylon has been widely utilised as a fabric as well as a thread. Nylon is preferred above other thread types because it is so very strong and flexible.
This is significant because, in order to guarantee the longevity of the finished product, a stitched seam should be tougher than the material being sewed.
Nylon thread has a lot of advantages and disadvantages.
Positively, nylon-based synthetic thread is more durable than other fibers, most notably cotton.
With high-speed sewing machines, which drag thread fast through cloth with a needle, which can weaken it by damaging the individual filaments, thread endurance is very crucial.
Furthermore, nylon thread is thin, smooth, and water-resistant, which is crucial for textile applications where sweat-weakened underarm seams are a common problem.
This thread has certain drawbacks because it eventually begins to brittle and turn yellow.
When placed in contact with the intense heat of a garment iron, nylon thread melts.
A manufactured all-purpose thread is polyester. For the majority of machine and hand sewing projects, it is a wise choice.
Stretchy textiles respond well to polyester thread because of its generous give.
This thread typically has a wax or silicone surface that makes it easy to slide through fabric. There is also invisible polyester thread, which is a great option for some tasks.
Compared to most natural fibers, polyester is designed to be stronger.
One should abstain from using polyester thread with natural fabric. As the stronger poly threads may damage the weaker cotton fibers.
Polyester thread has a variety of additional benefits. It is strong and made for heavy-duty use.
Compared to rayon or cotton, it has greater tensile strength. Polyester fibers retain colour dye better over time and with numerous washings.
Although it still maintains its original shape, it has a lot of flexibility. It comes in a range of finishes, including matte and medium- to high-shine options.
It outlasts all other fabrics in terms of durability.
Majority of insects, rot, mildew, and dampness have little impact on it.
The best thread for sewing is nylon.
Additionally, it is a little slightly stronger than polyester and has the best abrasion resistance of any material.
Nylon thread is hence ideal for use on items like abrasion-prone footwear, purses, footwear, furniture, soccer balls, saddles, etc.
Strength, flexibility, and stretch are qualities of nylon thread. Additionally, it has resistance against UV, abrasion, and chemicals.
Where strength is crucial, nylon thread is utilised.
Polyester thread often has superior ultraviolet (UV) resistance than nylon.
It is frequently used for outdoor applications such as canvas, awnings, outdoor furniture, boat tarps, and other items that are likely to be exposed to the elements for an extended period of time.
For the majority of tasks, polyester or polyester coated in cotton works nicely. It is renowned for its power, sturdiness, minimal shrinking, and minimal stretch.
It offers you a smooth texture surface, strong tolerance to sunlight and dampness, and colorfastness. One of the main distinctions between polyester and nylon threads is the degree of stretch.
Choose a polyester thread that may be used for various purposes and will still have strength and suppleness.
For machine embroidery tasks, you could also take into account high-sheen polyester thread. The high-sheen finish will add rich appeal and sophistication to any project.
For quilting, a polyester thread with a cotton covering is preferable due to its polyester strength and cotton appearance. Additionally popular among quilters is Egyptian cotton.
Before buying a thread, you must do your research. You can get the best-performing seams if you use the correct thread for your application.