Nothing but style is a global online clothing brand that offers the latest style of female clothing. The brand is very well known because of all its social media and pop culture customers.
The UK based brand grew at an exponential rate since its launch and with its customers all over the world the brand has no plan of slowing down.
Nothing but style's product seems to have mixed reviews from its audience while some are extremely happy, others still seem to be skeptical about buying from the website.
Anyway let's find out why the brand is so hyped and is it as good as they say it is.
Does Nothing But Style Price Their Goods In Fair Manners?
Since its beginning the brand has tried to stick to one class of items which is female clothing and this has allowed it to have every product related to female apparels in its inventory.
Keeping the list of its products under one heading has helped the brand to keep its prices in the reach of most around the world.
Add in their sales and this makes the brand fall into the best pricing category. th
The company hosts sales every now and then, for the customers to take full advantage of, where the sales are not just limited to special occasions.
However, these frequent sales raise concerns about the quality of the product and make one think if the products are overpriced when they hit their online store.
The Brand Has No Stores And No Vendors
Nothing But Style sells their products only from their own online store and nowhere else, this helps with a couple of things, one that the customer doesn't have to worry if the product is going to be original or not second, they can offer their products at very competitive prices.
Furthermore, by selling goods online,
Nothing But Style can reach customers worldwide without investing huge sums of money in hard-stores, vendors or even legal matters. Moreover, this helps with keeping their goods in a more affordable ranch.
Where Is Nothing But Style Located?
Nothing But Style is a U.K based company that supplies its products directly from their warehouses that are also located in the U.K.
The company and its website is licensed under U.K State Law. Nothing But Style delivers worldwide except to North Korea and that is quite understandable.
Delivery Time And Charges
When it comes to shipping NBS has many options for its customers within the U.K they get everything from standard shipping which takes 2 to 3 days.
It is free for people buying goods worth more than 35£. The fastest delivery option would set you back about 7£, but the ordered goods are delivered within 24hrs.
For its customers worldwide the company just provides one delivery option that is standard shipping which takes 5 to 7 working days and costs about 8£.
However, if you live in the U.S and a couple of other countries you might have an option of express delivery and yeah postcode restrictions are applied.
Exchange Policies
Nothing But Style has a full return policy in which a customer can return any unwanted items within 28 days if it is unworn and in its original condition.
However, the company still does not accept any exchanges, and all you can do is return the product and place a new order if you are interested in another product.
Returns
Returning is fairly easy for someone living in the U.K all one is required to do is repack all the goods in its original box with the complaint note and return it back to Royal Mail Post Office and keep the receipt safe until the refund is complete which usually takes around 5 working days.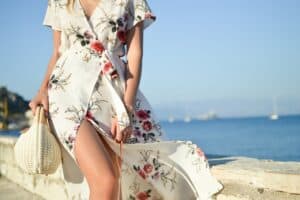 The same applies to international customers; however, the refund time takes double the time which is a minimum of 10 days.
Lost Or Late Orders
First of all please note that if the order is placed on a bank holiday it will only be processed on the next working day. The given times are all estimated times and they can vary because of many reasons and one of them is the courier. However, if your parcel has truly gone lost then you have the confirmation email with you which will help you with your refund, Nothing But Style has a support system that will help you with your problem.
Cancelation Of An Order
Nothing But Style, starts preparing the goods you have ordered as soon as an order is placed and this means that an order placed can't be cancelled whatsoever if you think that you need another item or size you need to order again your desired item and return the item you wanted to cancel once you have received it.
Conclusion
Nothing But Style is a brand that has been selling female clothing for a couple of years now. It has made quite a bit of following through their marketing campaign where they use social-media influencers to market their products and sell it to their desired audience.
With its fair prices and rather trendy style clothings Nothing But Style has made substantial growth since they started their operations.
However, there are many things that can be tweaked to up there level even more like their order management and express delivery to other countries all in all Nothing But Style is doing good for a new comer in the market.