An online retailer site that launched eleven years ago, has made waves across the fashion industry, where it claims radical transparency on all it's products and has certifications layered all over its website.
It is a brand that excels in timeless fashion providing clothing, shoes and accessories for men as well as women at relatively low prices than other luxury brands.
The headquarters are mainly based in US cities like San Francisco and California and stores in New York City, while its products are shipped all across the world which is free over a certain price range.
Recent phenomena has raised speculations considering the company's ethical practices and it's claim for "radical transparency".
Is Everlane as good as it claims?
Let's find out.
Why Do People Hate Everlane So much?
Although the retailer site provides clothes that are said to be of high quality and timeless fashion whether it be leather jackets, or high end t-shirts and sneakers.
The public favors this timeless style and has a preference for Everlane as their go-to brand, however, problems arise when it comes to customer service.
Poor Customer Service
Many people who require returns or changes, their requests are usually turned down and credit also goes to their poor shipping services where it takes much longer to reach them, than other online websites like Amazon.
Apart from that, racist experience expressed by former employees has downgraded the company's reputation even more and has led to a demise among customers and workers alike.
Problematic Size And Fit
It has also come down to their style and fit where they seem to be focused on young people's style.
Senior citizens don't seem to be comfortable with the size, nor style where they find it to be too cult oriented.
Their sizes run smaller than most other brands in both men's and women's clothing.
People who have a medium fit are compelled to buy large, and still don't find the fitting satisfactory.
Their quality, an area they are known to be pretty strong, has raised some speculations where many of their recent products such as their shoes made from recycled plastic and leather barely seem to last.
Why Is Everlane So Popular?
For a brand that launched eleven years ago, Everlane is going pretty fast for its age.
The fact that they did not opt for the same marketing strategy as the rest of their competitors, in terms of their products and style, has everyone reeling towards the brand.
So what makes Everlane so popular?
Designer Quality At Fair Prices
Now, everyone knows that Everlane has some of the best quality products in the market.
It has ever been the case since the company started and though it gathered criticism and faced difficulties at the start of its business, especially due to the heavy competition it faced at the hands of its most potent rival, Amazon.
However, what has allowed Everlane to survive all these years is its persistence and transparent pricing structure where high-quality products can be bought at relatively low prices.
Almost all the stuff at Everlane has a fair price especially when you consider the quality you are getting for your money.
Although the brand has given us reasons to believe that they're not all transparent, it is still one of the major reasons behind why Everlane thrives to this day.
Opting For Classics Rather Than Fast Fashion
In a world where fast fashion thrives, giving people a run for their money, Everlane dared to go against the odds and stick to classic, timeless fashion products for their company.
Their suave, sophisticated elegant tees, Italian shoes, and Cashmere sweaters make choices easy to buy and wear.
Great Online Experience
Their website is efficient and easy to use, where complete transparency is offered, and customers can view where the lifestyle of the product starts, how it's processed down to its end steps and brought in front of them.
You can also customize the size charts to inches or centimeters as per your preference and understanding.
Overall, customers are pleased with their experience with the Everlane brand. It gained more popularity during COVID-19 pandemic, where it brought transparency and made online shopping easier, without the hindrance of middlemen.
Is Everlane Good Quality?
When it comes to quality, Everlane just kills it. They have a wide variety of products, for men and for women.
From boxy shirts and tees to durable jeans and sneakers, the brand has it all.
There is a fabric known as washable silk, in their clothing line a testimony to the brand's high quality.
The Everlane organic cotton V-neck is a favored product in their women's collection.
Everlane also produces accessories for both men and women where they launched their Everlane 100% human facemask, a fabric mask with breathable material and cotton ear loops that make the experience all the more comfortable.
Is Everlane Actually Sustainable?
The company has taken many green initiatives where much of its by-products are recycled and used in their steps of the manufacturing process. For example, they have cut down ninety percent usage of new plastic from their supply chain.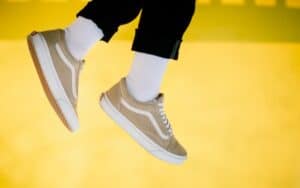 They've incorporated scientific strategies in reducing the carbon emissions from their factories, and make regular donations to organizations working for the welfare of the environment.
Much of their factories are powered by solar panels and those that aren't, due to low revenue, are working towards all green measures to prevent harm inflicted on the environment due to their production.
Conclusion
These are pretty good measures taken by Everlane when compared to other fast fashion brands of contemporary times and have a long list of certifications to testify their claims.
Although, they don't necessarily mention the percentage of products produced by these measures might be seen as problematic and a little hypocritical for a popular brand like Everlane, the overall measures taken by the company seem satisfactory to the analysts and public alike.
Summing it all up, Everlane is a brand that really does give you something that is nothing less than any major brands without any premium charges.