Craghoppers is a British brand whose expertise lies in producing outdoor clothing and accessories.
Craghoppers' founders were adventure enthusiasts. Their goal from day one was clear: to produce clothes that would protect the wearers from harsh weather conditions.
The brand was successful in designing such apparel, and soon Chris Bonington signed them to produce his gear for the 1975 Everest Expedition.
Then, In 2008, the brand partnered with world-famous, wildlife adventurer- Bear Grylls. In 2014, it became the exclusive clothing partner of National Geographic Channel in North America.
Craghoppers' history alone is enough to prove that it is a good brand, but let's discuss all the things that make it even better.
The company is popular for coming up with innovative ideas for its apparel. Some of its technologies worth mentioning are Aqua-Dry, NosiLife, NosiDefence, NosiBotanicals, and Solar Sheild.
The brand uses the mix of these in its apparel to make it valuable for outdoorsy individuals.
Another notable characteristic of Craghopper is its love for the planet. All of its jackets are prepared using recycled plastic bottles and polyester.
The brand has also taken steps to reduce the use of chemicals in its coloring industry. Up till now, it has successfully cut down its chemical use by 62%.
All this proves that Craghoppers is a good brand.
Are Craghoppers waterproof jackets any good?
Craghoppers calls its waterproof jackets a perfect companion for outdoor adventures. For men, Craghoppers offers two collections called Men's Waterproof Coats and Men's Waterproof Jackets.
Both of these are made using high-quality technologies, Aqua-Dry and Eco-shield.
The aqua dry fabric guarantees protection from rain, no matter how long or how hard it pours.
Eco-shield, on the other hand, is a water repellent of vegan origin. It is coated onto the jackets to let the watery stains just run off.
Both collections come with a lot of pockets where you can store your phone, map, or anything important.
Men's waterproof coats are constructed with an insulating layer and weatherproof shell. The two work together to keep the consumer warm in harsh cold weather.
Men's pack-away waterproof jackets, on the other hand, are designed with portability in mind. These jackets are just as good at repelling rain but they are made with thinner material.
This makes pack-away jackets an excellent choice for anyone planning a getaway to a place with unpredictable weather.
But this is what the company says about its waterproof collection. To make sure that the brand sells what it describes, we decided to test out one of their jackets.
We picked Craghoppers Stormforce Waterproof Jackets worth £125. The overall size of the jacket is pretty and you can easily layer it inside if the weather is too cold.
The recycled polyester used to prepare the jacket does not feel cheap. The jacket feels good on the body and does not cling to the skin.
The sleeves, however, were a little big which is good when you are trying to protect yourself from the weather but get in the way when looking at the map or mobile phone.
The jacket also has four good-sized pockets, three on the outside and one on the inside.
The storm flaps cover the main zip in the front, the three outer pockets also have storm flaps which is a plus point.
After trying it on and checking its features we put the jacket on in rainy weather and discovered that the aqua dry fabric is magic for real.
The jacket remained dry throughout our journey and it is safe to say that Craghoppers Stormforce Waterproof Jacket is worth buying.
The other Craggopper's waterproof jackets also have really good reviews online.
Are Craghoppers good jackets?
Craghoppers offers a wide variety of jackets for both men and women.
On their website, you will notice compilations named, waterproof jackets, insulated jackets, Gore-Tex jackets, 3-in-1 jackets, Softshell jackets, and parka jackets.
All of these are prepared with high-tech materials and each one serves a different purpose.
Waterproof jackets are made with an aqua dry fabric that protects from heavy rain and keeps you warm in harsh weather.
Insulated jackets are prepared with ClimaPlus technology that traps the body heat and blocks out the cold. These jackets protect you from rain as they are designed to dry quickly,
The Gore-tex jackets are designed to keep you protected from any weather conditions. Be it heavy rain, sleet, cold wind, or another normal day, you can rely on gore-tex technology.
Gore-tex also provides its users with RFID protection and keeps their precious devices from getting scanned without their knowledge.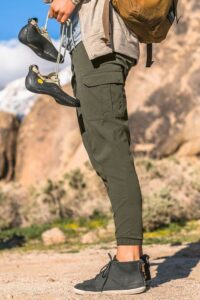 The 3-in-1 jackets are perfect for those who wish to wear one jacket on cold, hot, and rainy days.
Their outer layer is made of aqua-dry material that keeps you safe from rain, and inside you get a detachable fleece layer. So in winter, you can wear the jacket with the fleece layer and in summer you can skip it.
Some Craghoppers jackets also offer antibacterial and insect repellent properties.
The brand is committed to making the life of travelers easy and its jackets are great proof of that.
Is Craghoppers a British brand?
Yes. Craghoppers is a British outdoor clothing and travel company. It was founded by Brian Gaskin and Roy Holmes in 1965.
Today, the brand is owned by Regatta group and has its headquarters in Manchester.
Is Craghoppers fashionable?
The reason behind Craghoppers' popularity is not only its high-tech innovations. People admire the brand for keeping its clothes fashionable as well.
The brand always stays on-trend.
Their jackets and trousers come in a variety of darker colors, but for those who enjoy fun colors, the brand offers neon orange jackets.
The color block designs are another great addition to Craghoppers' online store.
The reviews regarding Craghoppers designs are quite positive and its buyer believes that they can easily wear the jackets on a boy's night out.
So, our final verdict is that Craghoppers apparel is a perfect mix of functionality, comfort, and style.