The 2000s was all about sporting a bohemian look. It took cues from the 1960s.
The trends that rocked that era were yoga pants, cowl-neck shirts, peasant tops low-rise jeans and cropped jackets. All these were popular outfits for women.
Rappers have always been present in the music scene. However, in the 2000s, they were everywhere to be seen and heavily influenced fashion. Rappers were the rage.
For instance, the most famous one was Soulja Boy's "Crank Dat (Soulja Boy). This song highly influenced fans of all ages at that time.
The 2000s also saw the rise of fast fashion.
Some trends in the 2000s made it big and some faded quite fast. Casualwear and leisure wear were some of the trends that were in the limelight.
Let's dive into that era and see some trends which made the 2000s all so memorable for us.
What is hip-hop fashion?
This was also known as rap fashion. This fashion style referred to a distinctive way of dressing and originated from inner-city youth and Urban Black America in New York City.
It originated with young Latino and African American people.
It included fewer designer looks and more inclination towards baggier styles.
1. Fitted New Ear caps
These caps made it to the hip-hop scene in the 2000s. Hip-hop artists like 50-cent and Ludacris wore New Era caps to public events.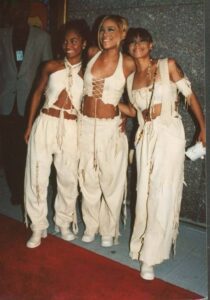 There were other rap artists too such as Chris Brown and Fat Joe who collaborated with the New Era Company.
The rappers used to wear this cap with a gold sticker which was a way of establishing this brand as an authentic one.
2. Shiny black tones
The 2000s also saw futuristic trends in clothing. This means metallic and shiny clothing.
The tech-loving fashion was a mixture of pop trends as well as all the technological advancements made in the millennial era.
Some of the ways in which girls used to make their outfits look all trendy were adding shiny silver materials or pearlescent shades.
One of the ways to do that was to add a metallic puffer jacket or a pair of pants. These were worn along with bright colours such as purple, pink or blue.
3. Baguette Bag
If you were in the 2000s and were a fan of accessorizing your clothing, then this trend was for you. Baguette bags dominated the fashion scene at that time.
This was considered to be one of the fashion symbols of the Y2K fashion. Baguette bags were made all the more popular by Carrie Bradshaw in Sex and the City.
These bags were little and cosily fitted under your arm so you could carry them daily.
Baguette bags looked great in pastel shades though if you want a truly authentic the 2000s look, you could also get shoulder bags with metallic colours and shiny fabrics. These would look good with any of the outfits!
4. Figure Hugging Shirts
One of the most popular hip-hop culture icons was bay T-shirts and tank tops. These became closet staples in the 2000s.
This trend was made more popular by the Friends TV series as well as by Disney stars such as Alyson Michalka, Hilary Duff and Ashley Tisdale.
Those who wanted a more modest look would pair the baby T-shirts under the tank tops.
5. Ripped Jeans
Of course, the female fashion took it one more step ahead and the ripped jeans and peep-toe pumps were paired together to create the ultimate hip-hop 2000s look.
The Christian Louboutin peep-toe pumps with ripped jeans were those unforgettable fashion moments which become etched in history forever.
This signature fashion look made its way not only into the daily lifestyle but also into the red carpet.
Ripped jeans had started as a sign of 'anger towards society'. It was a political movement.
However, once the celebrities and singers took up this fashion trend in their music videos, the style soon became an iconic symbol of the 2000s hip-hop fashion.
Earlier, fans and follower ripped their jeans at home but denim companies, seeing the popularity, introduced this trend as part of their clothing lines.
6. Baggy Clothing
If we are talking about the hip-hop fashion AND the 2000s, how can we ever forget the baggy jeans?
Baggy jeans were EXTREMELY popular both among males and females. Skinny jeans were fashion symbols of just the 2000s, but baggy jeans were symbolic of hip-hop music and rap.
And it wasn't just limited to baggy jeans. Each piece of clothing because as baggy as it could.
The brands catered to the demand for huge hoodies, huge jackets, T-shirts, and jeans.
Most famous rappers used to sport this look, so this look took the fashion scene by storm when it came out.
Some examples of hip-hop stars in baggy jeans were Jay Z, Kanye West, and LL Cool J. They paired baggy jeans with Air Jordan sneakers and oversized jerseys for a complete hip-hop look.
How did this trend come about?
We already know that hip-hop fashion originated from urban youth in New York City. Most probably, the baggy clothing was due to the ill-fitting clothing which used to be passed around in the inner city.
From there on, this clothing became merged with streetwear fashion.
People used to mix and match baggy clothing items to make their style.
7. Flashy accessories
The 'bling' wasn't just limited to clothing.
Accessories were all flashy and shiny thanks to the hip-hop trends.
In the 2000s, designer brands were in a fierce race to win more and more fans by trying to be featured in 50 Cent or Black Eyed Peas music videos.
To make yourself look all prominent and eye-catching, flashy accessories were the way to go. This included oversized gold statement jewellery and bold sunglasses.
Not only this but if you had oversized watches with precious stones encrusted in them, BAM! This was an instant way to look so trendy.
Another accessory from this era was the hoop earrings. They were a fashion statement in themselves.
Destiny Child's hoop earrings were what everyone talked about. Hoop earrings were made mainstream by Destiny Child and Jennifer Lopez.
Hoop earrings didn't always stick to the strict definition of a hoop. The jewellery designers used to play with its shape like it could come in the form of a double hoop, a half-filled circle or even in square or oval shape.
8. Baker Boy Caps
Yeah, sure we know about the trucker caps. They were hugely popular in the 2000s.
However, that was not the only popular fashion trend.
Baker boy caps were immensely popular in female hip-hop fashion too.
Many female singers such as Rihanna, Britney Spears and Christina Aguilera made it more popular when they sported this look in public.
This fashion accessory was styled with a sweeping side fringe. The knitted caps were ever-popular both in the winter and autumn seasons.
This was a hipster staple made popular by hip-hop celebs like Rihanna.
9.
Bandana scarves
A bandana scarf is a kerchief. It is a rectangular or square piece of clothing that you tie around the head, face or neck.
The 2000s saw the immense popularity of bandana scarves too. This fashion was popular among both males and females.
They were a staple accessory trend to completely change your look. Bandana scarves were so popular because they were worn by rappers and hip-hop celebs.
You could wear it around your neck, and wrist or hang it from your back pocket. No matter what your outfit, a bandana scarf could be styled any way round.
10. Timberland boots
This too was a look wildly popular with both girls and guys in the 2000s. You cannot talk about 2000 hip-hop fashion without referring to timberland boots.
Timberland boots were first made trendy and in fashion by the black community. Their simple design is what made them so loved but most of all they were a favourite because they were so comfortable.
Timberland boots then went on to become a hip-hop icon.
The history behind this brand is as interesting as it can get.
The company behind this brand always considered the blue-collar workers as its target market. However, they soon noticed that their shoes were becoming widely raved about by the New City's hustlers and rappers.
This was not what the company had in mind and they even tried to distance themselves from the newly-found urban audience.
The very first buyers of Timberland boots were New York drug dealers who needed footwear to keep themselves warm and dry for a long time. From then on, it caught on the attention of the city's rappers.
After that, there was no looking back. The boots were everywhere to be seen. Whether you saw them worn by Tupac or being sported by Biggie, the Timberland shoes were here to stay for long and good.
Red carpets, movies, parties, and music videos were incomplete without the much-loved Timberland shoes.