In 1973, a rock climber gave birth to one of the most well-known outdoor clothing brands- Patagonia.
Yvon Chouinard discovered that climbing mountains in rugby shirts kept him warm and protected his body from getting injuries from the harsh climbing gear.
Yvon knew many climbers wished for clothes that would protect them from the harsh climbing conditions and decided to fill this gap in the market.
What started as a small business of rugby shirts and beanies soon turned into a massive empire.
Today Patagonia has sixteen factories that make everything from outdoor clothing to sports gear for surfing, climbing, fly fishing, and trail running.
The brand operates seventy stores worldwide and plans to expand more.
Many brands do outdoorsy clothing, but Patagonia's quality promise and sustainability policies beat them all.
Patagonia has a long list of loyal customers, but those not so familiar with the brand worry whether Patagonia jackets run small.
It is a worrisome question because people tend to bulk up in chilly weather, and since the jacket is the outermost clothing item, it needs to be loosely fitting.
Are Patagonia jackets loose enough to fit a few layers of clothes, or do they run short even when you are wearing a single t-shirt inside?
Let's find out.
The first thing you need to know about Patagonia jackets is- they come in three forms, slim fit, regular fit, and relaxed fit.
Slim-fit jackets are the ones that accentuate your body curves.
As the name indicates: Patagonia stitches these jackets in a way that makes them hug your body.
You can wear these jackets with a body-hugging or loose clothing article like a t-shirt or a polo.
If you wish to layer up under your jacket, a slim fit is not the right choice for you. To know whether these jackets run small, we questioned a few blokes who own slim-fit Patagonia jackets.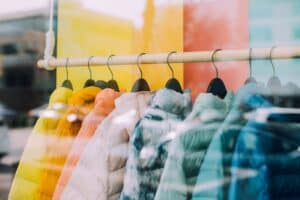 One guy with a slimmer body type told us that his jacket fits him perfectly, but another bloke with a medium build told us that when he got a medium-sized slim-fit jacket, it was a bit tight in the chest area.
Another bloke complained that his Houdini did not fit his arms comfortably and advised us to buy one size larger than the usual.
So this tells us that Patagonia's slim-fit jackets can run a little short in your arms or chest area, and it is best to get one size bigger.
Next, we have regular fit jackets. Patagonia claims that jackets are tailored neither tight nor loose.
You can wear them on a heavier base like a sweater and a flannel.
If you have a bigger build, you might have to go up a size, but then there's a chance that you will get longer sleeves.
Now, we are down to loose-fit jackets.
If you want to order a Patagonia jacket online, your safest bet is the loose-fit jacket.
These are perfect for those who like to wear a puffer or a heavy sweater inside their jackets.
Patagonia tailors its loose-fit jackets in a way that makes the consumer feel warm and comfortable.
They are pretty roomy, so there is no chance of them running short.
So, our final verdict is that Patagonia slim-fit or relaxed-fit jackets can run small, but loose-fit jackets are always true to size.
Do Patagonia Jackets Run True To Size?
Patagonia is famous for its high-quality apparel, transparency in the supply chain, and sustainability policies.
While people love to shop from Patagonia, they have a few questions regarding its jacket collection. One of them is whether Patagonia jackets are true to size.
There is no simple yes or no answer to this question. Some people have never faced any issue with Patagonia Jacket sizing, while some complaint about them running short.
After questioning a lot of Patagonia Jacket users, we concluded that the brand's slim fit and regular fit jackets often run small. The loose-fit jackets, on the other hand, are never short or big. In short, Patagonia's loose-fit jackets are always true to size.
The best thing about shopping from Patagonia is that you can always return the product.
The brand does have a 30-day return policy and happily takes the item back if the tags are intact.
Even if you claim a year later, Patagonia will not turn you away.
It will happily take the product back and give you a gift card that you can use to buy something else on their website.
So if you have an eye on a Patagonia Jacket, do not hesitate to order it online because you can return it if it's not your perfect size.
How Are Patagonia Jackets Supposed To Fit?
Patagonia jackets come in three forms.
Slim fit

Regular fit, and

Relaxed fit.
The brand tailors each one to fit uniquely.
Slim Fit Jackets accentuate the body curves and aim to give you a model look. These jackets do not have a lot of room in them and hug your body.
You can pair them with a loose or form-fitting shirt but forget about wearing sweaters inside.
Regular Fit Jackets are neither tight nor room. If you like to pair your jackets with a light sweater, a regular-fit jacket will be perfect for you.
Loose Fit Patagonia Jacket is what the name indicates- loose. They are lots of room in them, so you can easily layer up and still fit in them.
The brand's loose-fit jackets are ideal for cold days when you wear lots of clothes to keep functioning.
Do Patagonia Jackets Shrink?
Patagonia makes most of its Jackets with recycled polyester. This synthetic fabric does not shrink under typical washing conditions.
So it is safe to say that Patagonia jackets do not usually shrink.
But there have been reviews regarding the brand's Better Sweater Jacket. Many people came up with the complaint of their jacket shrinking after a wash.
Since we can never be too sure about a product, it is best to check the reviews on the website before buying it.