A piece of written art that is often used as a sign or symbol of rebellion, graffiti is used by brands to create their logo to represent the same motives behind such works of art.
It need not be the only modern street wall art. Graffiti has existed over thousands of years, in Greece and Egypt where it was used to inspire or tell a story by people of that age.
Today, graffiti is considered a form of art by many, and even though wall art isn't legal in many areas where it is seen as vandalization of public property, it still reigns the streets of cities and suburbs alike.
The art is influenced by different cultures and it's preceding meaning deciphered in those contexts.
Graffiti is increasingly being used as brand's logos to represent their company's name, and the product they are selling.
Have a look at some of the clothing brands that have a graffiti logo.
Stussy
The brand features a range of collections, most of them inspired by hip hop culture.
They have partnered up with several brands in the past in launching their collections and still continue to do so.
The unique designs and style of their garments are preferred by all those who were a fan of 90s street wear, laid back style that is functional enough for everyday usage.
The fact that 90s trends are back in current fashion helps the brand further.
Stussy has been functioning as a brand since the 1980s where the headquarters lie in California. It has taken major steps in upgrading the brand's profile and downgrading its impact on the environment.
Their high quality fabrics, laid back styles and unique prints in reasonable prices, have allowed them to gain a reputable position in the world of fashion.
Apart from having stores all around the world, Stussy sells its clothing from its official website where all its latest collections are available.
You can have a better idea of their shipping charges and policies on the brand's official website: https://www.stussy.com/
Obey
The brand that was founded by a street artist himself in 2001, Shepherd Fairey launched the clothing line as a result of his activist movements that he instigated by his street art and mobs.
The ideology can be seen within the illustrious designs of the brand's clothing and has so much to offer in terms of fashion.
It introduces a new narrative to style, where what a person chooses to wear can be used to express one's ideas and lay a foundation for change.
The graphics incorporated on their garments may be considered provocative by some, since they express a dislike for norms and authority, and serve as an inspiration for others.
No matter how a person chooses to view the brand, the popularity of Obey cannot be denied. It has been making waves in the world of style for years and continues to exist as a phenomena for those who believe in its narrative.
Not only that, but the brand also helps young artists gain recognition by introducing them on their website.
It has an exclusive Obey Awareness collection where all the profits earned by the collection are donated to welfare organizations, helping make a change.
Intrigued by the brand's outlook and want to see the change, yourself?
Well, don't be afraid to give their official website a click at: https://obeyclothing.com/
Addict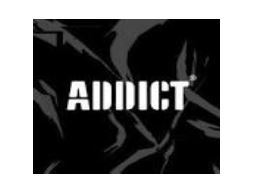 Addict is a streetwear clothing brand that has been in the industry since 1996, and has paved the way for many young artists, musicians and sportsmen and given them a head start in their respective careers.
The recognition it has gained in a relatively short amount of time is praise worthy.
Addict has collaborated with many known brands such as Vans and Marvel, and software companies like Microsoft and G Shock to add that high tech, cutting edge vibe present in all their designs.
It doesn't come as a surprise that it has got great ratings on most review websites, where the customers are satisfied with the goods they are getting from the brand.
All of its contact details are listed on its official website where they have got a good response rate and easy shipping and return policies.
They've got a wide variety of styles and designs for you to choose from where much of them can be sported as unisex clothing.
From tops, hoodies and sweats to swimming shorts, trousers and hats, Addict has it all if you're looking forward to incorporating the street wear, everyday style into your wardrobe.
To have a closer look at their collections, pay their website a visit, and see what the brand has to offer for yourself: https://www.addict.co.uk/