Giraffes are beautiful and exotic animals known for their distinctiveness and pride.
Giraffes have been used in art for hundreds of years to represent nature and its splendor.
Giraffes have always been fascinating creatures for mankind because of their unique form and unusual looks.
The tall neck of the giraffe is often represented as eyeing the future. It also connotes an extensive distance between the brain and the heart.
Each culture symbolizes a giraffe in its own way, with one thing in common: the love and adoration for this beautiful creature.
If you see a giraffe in your dreams or even in real life, it is often associated with a fresher perspective.
Many known artists have also used giraffes to represent the beginning of animals' evolution.
Since giraffes stand tall and keep their heads high, they are also known to signify confidence.
While they can reach wherever they want, their confidence is never conceited.
The galore of qualities and attributes a Giraffe represents makes it a fantastic choice for a clothing brand logo.
In this piece of writing, we'll be talking about clothing brands with the giraffe logo.
Keep reading to explore these brands in detail.
Blue Giraffe
Established initially as a Facebook group by Stacey Day and Shannon Faith in 2015, Blue Giraffe started as a brand specializing in women's trendy clothing and accessories.
The brand offers both online and physical shopping experiences to its customers. It is known to offer monogrammed and customizable apparel.
You can find a wide variety of tops, bottoms, dresses, and beautiful accessories at Blue Giraffe. One of their specialty is their graphic tops that come in different themes, including sports, Kentucky, teachers and students, and more.
In addition to carrying a full range of women's apparel, Blue Giraffe also offers clothing for young girls. They have numerous collections of children's clothing, some of which are inspired by American, dino, and back-to-school trends.
Blue Giraffe offers customization for children's clothing as well. You can get any monogram printed, embroidered, or appliqued on clothes or accessories, like caps and bags.
The brand enjoys massive popularity among its customers because of its high-quality materials and affordable prices.
Another reason why people are so satisfied with Blue Giraffe is that the shipping costs they charge are minimal, and their return policy is customer friendly.
If you want to give it a try, here's a link to its website https://www.bluegiraffeky.com/
Giraffe Workwear
Giraffe Workwear is a UK-based apparel brand specializing in high-grade embroidered and printed workwear for men, women, and kids.
Founded in 2015, the brand works with several companies and organizations across the UK and offers customizable workwear.
In addition to clothing, Giraffe Workwear also offers supplementary services that include paper or sticker printing and personalized business stationery.
Unlike most other companies that only offer t-shirt customization, Giraffe Workwear allows you to get almost any kind of clothing material customized.
The items you can get customized include t-shirts, polos, shirts, sweatshirts, hoodies, fleeces, jackets & coats, bodywarmers, trousers & shorts, hats & caps, bags, aprons & tunics, overalls, hi-vis, and safety accessories.
The quality of the fabrics offered by the brand is quite exceptional. You can check out their catalogs and fabric swatches before placing an order.
However, if you don't want to use their fabric, they also allow you to bring your own fabric for customization. And, if you are having difficulty deciding, you can opt for their consultation service to clear your head.
The brand has a minimum order requirement of £30. You can also take a look at the brands offered by Giraffe Workwear, which include Pro RTX, ORN, Snickers, Russell, Quadra, and more.
Here's a link to their website https://giraffeworkwear.co.uk/
Jiraffe Threads
Jiraffe Threads is a fairly new brand in the apparel world. Established in 2018 in Delaware, the brand offers clothing for men, women, young girls, and young boys.
From t-shirts to sweatshirts to hoodies, you can find a wide variety of tops in beautiful colors at Jiraffe Threads. The brand focuses on producing comfortable clothing that is unique and stylish at the same time.
In addition to clothing, the brand also offers various other accessories for men and women, including hats, masks, mugs, notebooks, throw blankets, and more, all with the Jiraffe logo.
The most commendable thing about this brand is that it actively contributes to GCF. It gives 10% of its earnings to the Giraffe Conservation Foundation to raise awareness and safeguard the lives of these exotic animals.
The brand also actively partakes in other charities and NGOs working towards environmental preservation, making it an ethically responsible brand.
The brand's customer support is very responsive, and they have a flexible return policy of 50 days. Even the returns are processed very swiftly.
The US-based brand offers worldwide shipping, so you can still order your favorite items without an issue if you reside outside the US.
Check out the website here https://jiraffethreads.com/
The Laughing Giraffe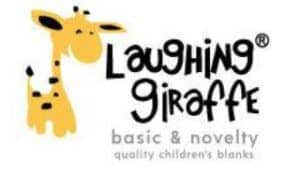 The Laughing Giraffe is one of the USA's top blank children apparel brands. The company offers bulk clothing items for toddlers and babies at wholesale rates.
With an enormous online selection, The Laughing Giraffe is a one-stop shop for all types of blank children's clothing.
On top of the wide variety of colors and styles to choose from, the brand also offers embellishment services, such as screen printing, embroidery, dye-sublimation printing, and custom production of clothes.
The company offers four different types of fabrics. The first one is 100% cotton, which can be screen printed, embroidered, and appliqued.
The second is a polyester and cotton blend with a 6oz interlock knit. You can get it screen printed, embroidered, appliqued, or sublimation printed.
The third one is 100% polyester. You can go for sublimation printing of this fabric in bright colors. Finally, the last one is 100% CottonLITE. This fabric can be embellished by screen printing, embroidery, and applique.
All the fabrics offered by the company are sustainable, and the sourcing and production phases strictly follow the ethical route. The brand is also CPSIA certified, meaning all its products are entirely safe.
To get a quote for the minimum order requirements, you can call their helpline.
To check out their collection, you can visit their website at https://www.the-laughing-giraffe.com/