Are you a denim lover?
Not to exaggerate, but everyone today adores jeans because no matter the occasion, you can rely on them to make you look chic.
Jeans are available in many designs, styles, and colors that you often fail to choose.
Even more, finding the perfect-fit pair can be challenging.
Unless you wear bespoke denim, you will mostly face size issues.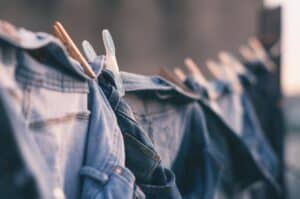 So, frustrated with too tight or too baggy jeans, you must be wondering, can jeans be altered?
Truthfully, it is a difficult task, but it isn't impossible.
This article will discuss whether your baggy jeans can be altered to fit you perfectly.
Also, the guide will cover everything from alteration costs to finding the best tailor for the purpose.
How Much Does Jeans Alterations Cost?
Jeans are a wardrobe staple for many people, but finding the perfect pair can be a challenge.
Fortunately, jeans alterations can help create a custom fit that is both comfortable and flattering.
But how much do jeans alterations cost?
The answer depends on several factors, including the type of alterations needed and the experience of the tailor.
Overall, the cost of jeans alterations can range from $5 to $50.
Simple alterations, such as hemming or taking in the waist, can often be done relatively cheaply.
Hemming is usually the cheapest option, with a price range of $5 to $15.
To take in or let out the waist of jeans usually costs between $10 and $20. Adding or removing flares typically costs between $15 and $50.
More complex alterations may cost more, such as tapering the legs or adding darts.
In addition, tailors having extensive experience may charge higher prices than those who do not.
The final cost also depends on how much fabric needs to be added or removed.
For example, if you add significant amounts of fabric to make wide-leg jeans from skinny jeans, the price will be higher.
Additionally, prices may also be higher at high-end boutiques or designer stores.
Therefore, the cost of jeans alterations can vary widely depending on the circumstances.
How Do You Fix Jeans That Are Too Big?
The fit is everything when it comes to finding the perfect pair of jeans. But what do you do when your favorite pair feels a little too loose?
If your jeans are too saggy in the waist or feel baggy in the legs, there are simple steps to fix them.
First, try tightening the belt loops. This will help to cinch the waist and give the jeans a more tailored look.
If that doesn't do the trick, try adding a denim welding patch to the inside of the waistband. This will help to reinforce the fabric and prevent sagging.
Finally, if your jeans look shapeless, try running them through the washing machine on a hot cycle. This will help shrink the fabric and give them a more fitted look.
You can always take your jeans to a tailor for a custom fit if nothing works.
So, with a little effort, you can quickly fix too big jeans and make them look great.
How Can I Make My Jeans Waist Smaller?
Mis-fit jeans are no fun. Even if the waist is wider an inch, it frustrates you to the peak.
But you no more have to worry about bigger waist size as you can easily make it smaller.
If your jeans are a bit too loose in the waist, there are a few easy ways to make them fit better.
Wear a belt
One way is to simply wear a belt. This will help to cinch in the waist and give the appearance of a smaller waist.
Pin the Jeans
Another trick is to pin the jeans in the back. This is a temporary fix, but it can help give the appearance of a smaller waist.
Sew Elastic
Finally, you can Sew elastic into the back of the jeans. This will create a gathered look in the back that will help make the waist appear smaller.
These are just a few of the ways that you can make your jeans' waist smaller. Try a few different methods and see which works best for you.
How Do I Make My Jeans Tighter?
You no more need to worry if you buy the wrong-sized jeans from an online store. There are ways you can make your jeans tighter.
Wear Them Frequently
One way is to simply wear them more often. The more you wear them, the more they will conform to your body shape and become tighter.
Wash In Hot Water
Washing the jeans in hot water and drying them on high heat is an effective and straightforward way to make them tighter. This will cause the fibers in the fabric to contract, making the jeans smaller.
Put Them In The Dryer
If you don't want to wash your jeans, try putting them in the dryer with a damp towel. The heat from the dryer will cause the jeans to shrink slightly.
Use Stretcher
Finally, you can try using a jean stretcher. This is a tool that you insert into the legs of your jeans and then turn to tighten them.
Jean stretchers are available at most sewing supply stores.
Bottom Line
Jeans are integral to your wardrobe. That is why they should be perfect in every aspect, including style, color, and, most notably, size.
However, even if you buy an oversized or miss-fit pair of jeans, you can easily alter it to fit you well. Moreover, there are specific ways to alter jeans at home.
Still, if you find that challenging, alteration tailors would also not cost you much.